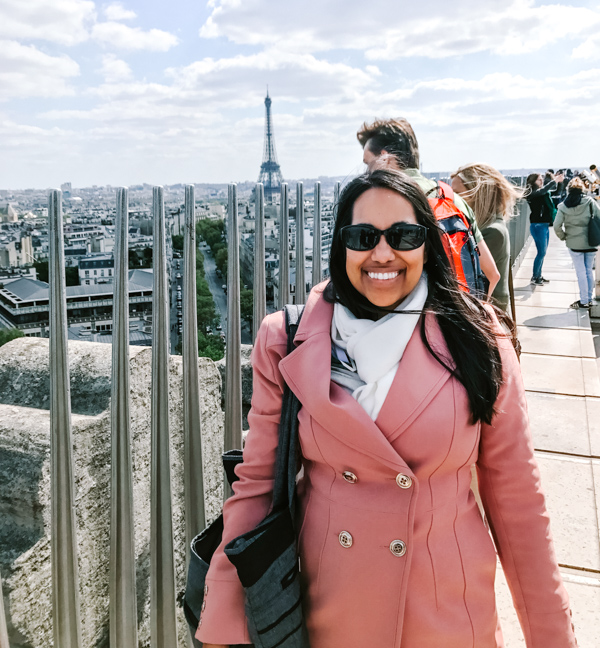 There is no other city like Paris! It's one of those places that stimulates all the senses – it's got great food, sights, culture, and more. I've been to Paris twice as a kid, but had yet to experience it as an adult. After finding out I'd be on a business trip to London, I knew I could take a short two-hour train ride on the Eurostar and spend a weekend in Paris. If it's your first time, I've taken what I learned from my travels and given you all the info below to plan your first trip to Paris.
I did a ton of research to see how much of the city I could pack in two full days (arriving Saturday afternoon, leaving Tuesday morning). Below you'll find everything I learned to maximize my time and money. These spots are meant for you if it's your first visit, and will help you experience as many sights as you can. If you have more time to spend in the city you can definitely spread these out over a few days.
Whenever I plan my trips, I find it hard to find sites and attractions that cater specifically to women, so I created these guides for women like me who want to experience a city. I love food, culture, and pampering and if you do too, I hope you enjoy this guide to planning your weekend trip to Paris!
HOW TO PLAN YOUR FIRST TRIP TO PARIS
Cost: €132.00+
If you are short on time and want to see as much of this city as you can, I recommend getting the Paris Pass. It includes admission to over 60 attractions, including several popular monuments and landmarks, with skip-the-line privileges for some (this will save you so much time!). The pass used to include a Travelcard that gives you free access to all Paris Transport Networks across Central Paris (subway, buses, etc.). Over the years, the benefits on the Paris Pass fluctuate so be sure to check their website for the most current deals. Since they have removed the Travelcard as an included option (you can still purchase it separately), I've seen that they've added the Eiffel Tower as an attraction.
Some of the major attractions included are:
DETAILS:
Adult passes start at €132.00
Passes range from 2-6 days depending on your travel needs
You can have the passes mailed to you if you book early enough or you can pick them up at their collection point in Central Paris.
You can view their full list of attractions here.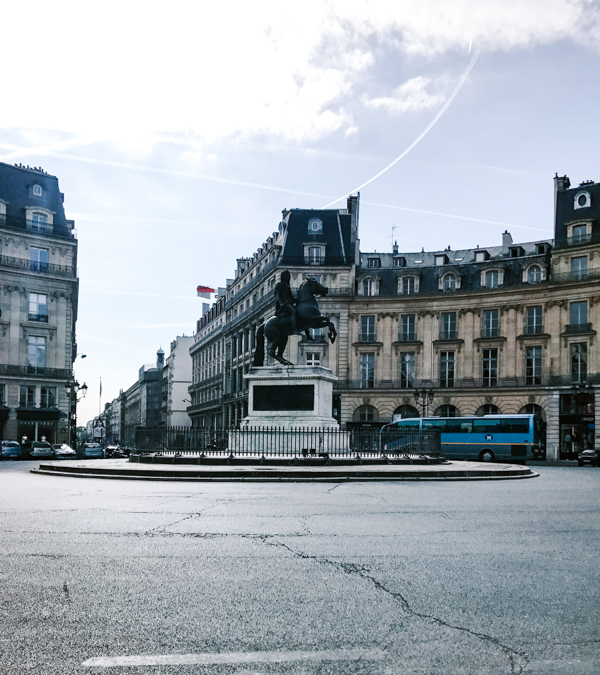 PARIS PASS ACTIVITIES WE SAVED FOR NEXT TRIP
Versailles – This is included in the Paris Pass, but the Palace of Versailles is located outside of the city center. You need a good half-day at least to go there, tour it, and come back. Since we wanted to spend the bulk of our time in the city center, we skipped it for this visit.
Montmarte Walking Tour – This 2-hour tour goes over the history and architecture of this area of Paris, but because we had limited time we skipped this. However, the Big Bus Tour does drive through this area, so we were at least able to see some of it this way.
Pantheon – This was slightly out of the way for us, as we wanted to focus on the Arc de Triomphe and Eiffel Tower, so we saved this for the next trip.
ITINERARY
DAY 1 ACTIVITIES:
1-Day Big Bus Hop-On, Hop-Off Tour
Notre Dame
Arc De Triomphe
Lunch
Champs-Élysées
Eiffel Tower
Dinner
Day 2 ACTIVITIES:
Louvre Museum
Boat Cruise
St. Germain
Walk Around & Explore
Book a Nice Dinner
Trocadéro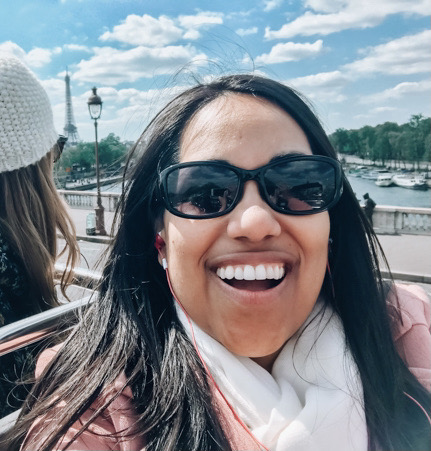 DAY 1
Cost: €38.00
Paris Pass: Yes
The Big Bus Tour is a great way to explore the city, especially if you are short on time and want to maximize what you see while you plan your trip to Paris. You must use your ticket for one day only, so we booked this tour the same day we wanted to see a lot of landmarks like the Eiffel Tower and the Arc De Triomphe. The bus will transport you to those locations, and it lets you get off and then hop back on which is great if you want to stop and explore.
It stops at the following locations:
Eiffel Tower
Champs De Mars
Louvre Museum
Notre Dame
Orsay Museum
Paris Opera House
Champs Elysées Étoile
Grand Palais
Trocadéro
We started our route at the Louvre stop, and rode our way around the city (snapping lots of photos along the way) until we arrived at our first stop.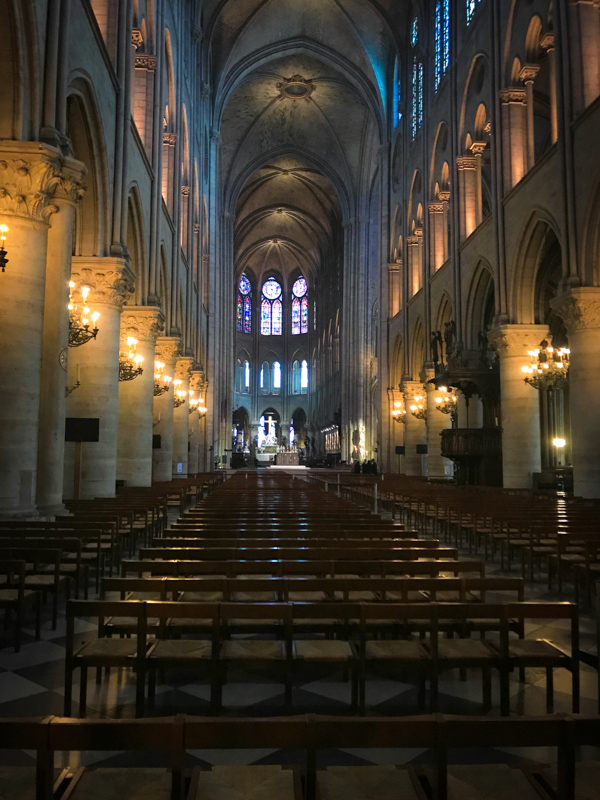 Cost: €10.00
Paris Pass: Yes
Note: (As of right now the Cathedral is currently closed to visitors due to extensive fire damage).
The Notre Dame Cathedral is huge, and it's the most famous example of French Gothic architecture in the world. If you're a design nerd like me, you'll love snapping pics of all the details. The area gets packed quickly, so it's best to go early to avoid crowds.
The inside is exquisitely beautiful, and the stained glass is worth taking a peek at. If you have the strength for it, you can climb the 387 steps in either of the two towers to check out the amazing views of Paris and the fancy gargoyles that adorn them.
Notre Dame also has ten bells, with the largest and oldest, called Emmanuel, located in the southern tower. It rings every hour on the hour.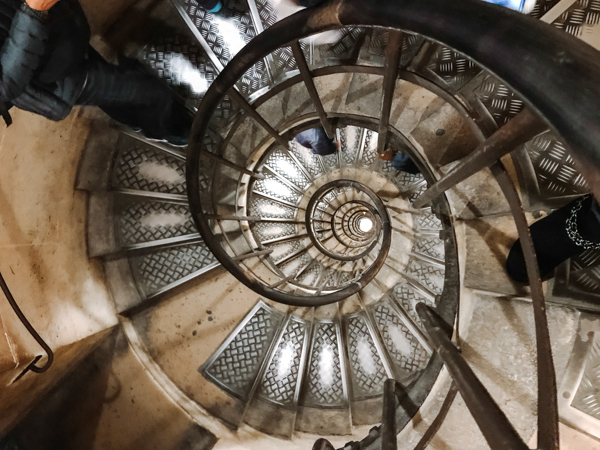 Cost: €13.00
Paris Pass: Yes
From Notre Dame, you can hop back onto the Big Bus and head towards the Arc De Triomphe. You'll head down the Champs-Élysées on your way there where you can scope out spots you may want to stop for lunch later.
You'll need to plan in advance for your visit here, as you'll need to make a reservation on their website. If you're spending the weekend here, note that it can get crowded on these days.
One of the best features of the Arc De Triomphe is the view from the observation deck at the top. You'll climb a winding staircase of 234 steps to get there, but the view is worth it. Make sure you get there well before they close, because they shut down the deck approximately 45 minutes before closing time.
The monument itself is a tribute to the French soldiers lost in all wars, and this is incorporated into the design. If you look inside the arch pillars, you'll see names of French military leaders engraved on the stone. The Tomb of the Unknown Soldier is located under the arch, where they burn an eternal flame to remember fallen soldiers of World War I.
LUNCH ON CHAMPS-ÉLYSÉES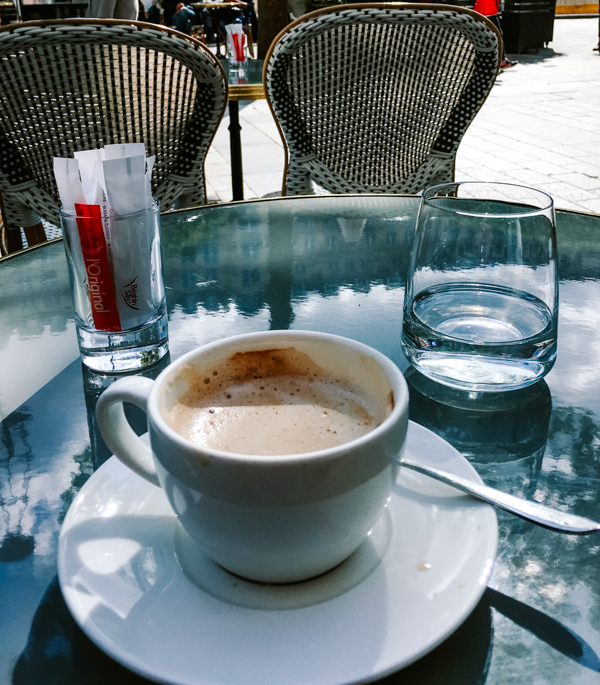 After this and all the stair-climbing you've done so far, you'll probably want to stop for lunch in this time block as you plan your trip to Paris. Nicknamed "The World's Most Beautiful Avenue", the Champs-Élysées stretches 2 kilometers from Place de la Concorde to the Arc de Triomphe.
Full of luxury shopping and dining, one of the best things to do here is to sit at a cafe and people watch. We stopped at Flora Danica for a mid-day coffee pick-me-up to fuel us through the rest of our day and enjoyed our afternoon break here.
If you feel inclined, you can spend more time here exploring the shops and the rest of the block.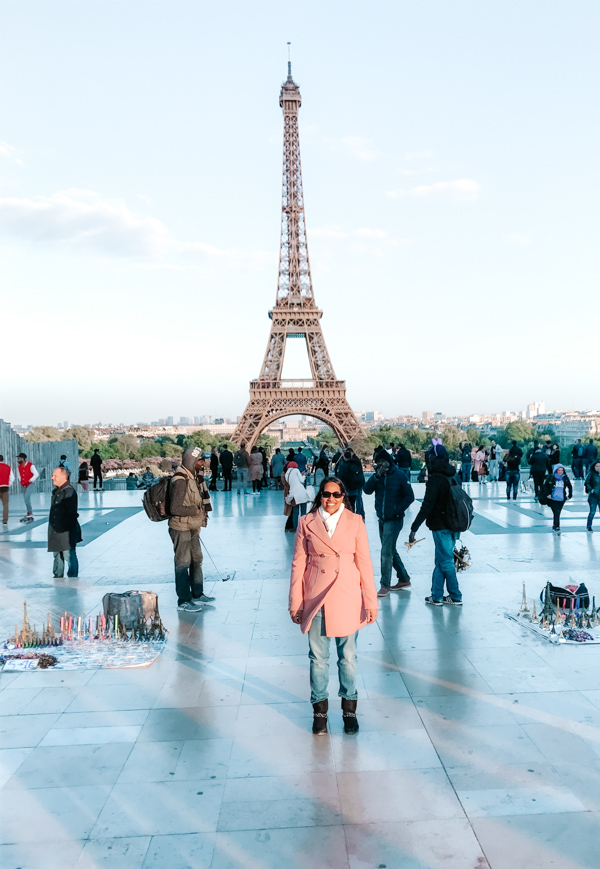 Cost: €11-€26 depending on your level of access
Paris Pass: No
No trip to Paris is complete without seeing the Eiffel Tower. This is an obvious stop as you plan your trip to Paris, especially if it's your first time. You can hop on the Big Bus, and get off at the stop nearest here. If you are wanting to go up the tower, I'd recommend you budget a few hours for this, as there are lines to take elevators to the top and it takes time to climb the stairs as well.
We wanted to make sure we got great Eiffel Tower photos for this trip, so we planned to arrive there in the afternoon to get good lighting at golden hour (We were there in April, when the sunset is around 9:00 PM). The best places to photograph the tower are on the streets and bridges surrounding the tower, the Trocadéro and the Champs de Mars, because the tower itself is so huge you can't capture all of it in a photo when you are close by.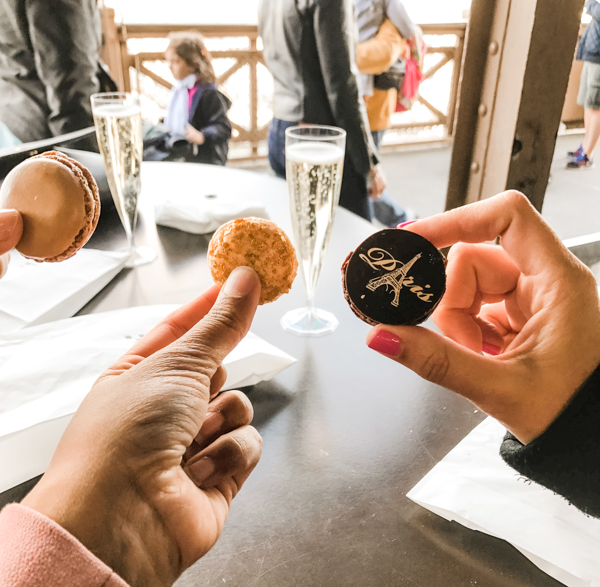 You have to purchase your tickets on the ground floor esplanade, and you won't be allowed to bring large bags or suitcases for security reasons. Once you get up the tower, there are three levels — the first floor, second floor, and the top. We enjoyed Paris-themed cookies at the Macaroon Bar on the second floor, and there is a champagne bar at the top of the tower if you'd like to purchase a glass to drink.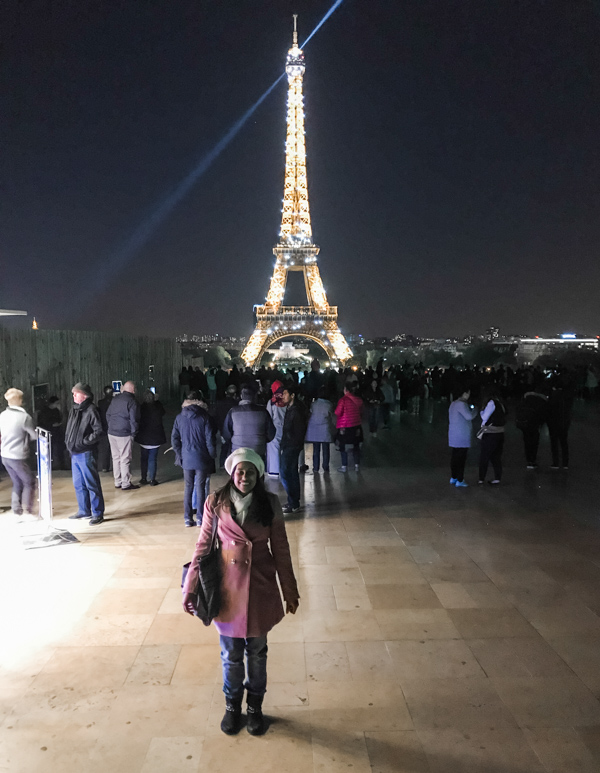 Be sure to catch the nightly light show that happens every hour on the hour, where they light up the tower with over 300 sparkling lights! The Eiffel Tower is a beautiful experience and something you should see at least once in your life – it's definitely a must-see as your plan your first trip to Paris!
DINNER
The Jules Verne and 58 Tour Eiffel restaurants are located within the Eiffel Tower if you'd like to dine here, but you'll likely need a reservation.
There are also many great restaurants within walking distance of the tower as well. I'd venture out a little further from the touristy areas if you're looking for a more authentic French meal.
It's a good idea to have a nice meal somewhere, and then walk back to the Eiffel Tower once it's dark to see the light show.
This is one of the best places to take photos of the Eiffel Tower during the day or at night for the light show. After you grab dinner, I'd recommend you head back here to catch the Eiffel Tower light show at the top of the hour.
This area tends to be crowded at all times, so plan accordingly.
By this time you're probably tired after walking and climbing stairs all day (my pedometer app said I logged 20,000 steps!). Head home and get some rest, and get ready for all the fun things planned for Day 2.
DAY 2
You'll likely be tired from the activities from the day before, so it's best to take it easier on this day.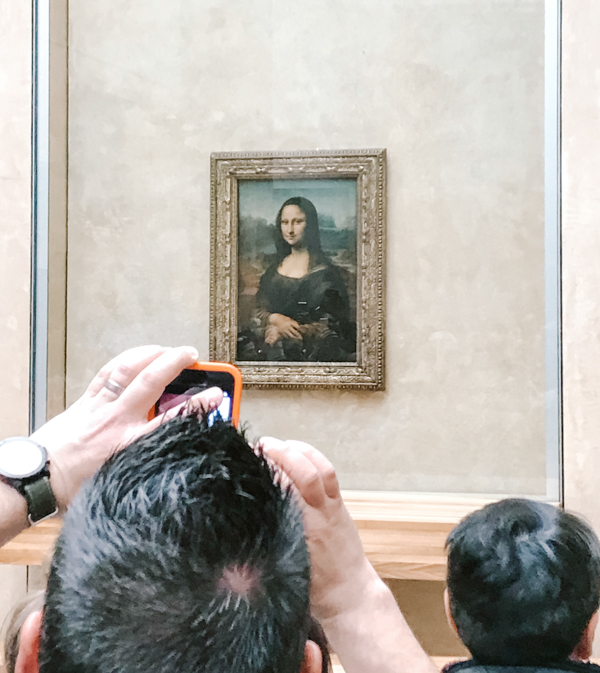 Cost: €12
Paris Pass: Yes + Skip the line privileges (you'll need to pre-reserve on their website)
Start your day at the Louvre Museum, and give yourself plenty of time to explore. The Louvre is huge! It can be overwhelming to try and see everything, and it may be helpful to do a little pre-planning and research to figure out what you want to see.
It's best to go early on a weekday to avoid crowds. However, if you want to see the Mona Lisa, note that there is usually always a crowd. It's the most famous painting in the building and it's protected behind bulletproof glass.
If you love all things Ancient Egypt like me, be sure to check out the Egyptian Antiquities wing and all the cool artifacts there. I also loved the painted ceilings in the Galerie d'Apollon, where they also house the French Crown Jewels.
LUNCH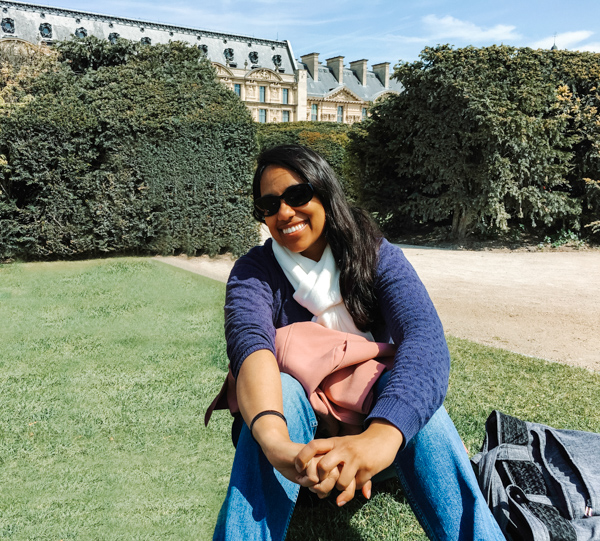 When you've had your fill of the Louvre, you can grab lunch there or you can grab something to go and have a picnic in the Tuileries Garden. This is the grassy area between the Louvre and Place de la Concorde.
It was a sunny day when we visited, so we enjoyed having a little picnic lunch on the grass.
Cost: €15.00
Paris Pass: Yes
One of the best ways to relax and see Paris is from a boat on the Seine River. The Bateaux Parisiens River Cruise is included in the Paris Pass. It was a relaxing addition to our laid-back day. The tours depart every hour from Pier 3 near the Eiffel Tower and last about an hour long.
The boat passes many major landmarks like the Eiffel Tower, Notre Dame Cathedral, Grand Palais, and under the famous Pont Neuf bridge. Have your camera ready if you want to snap photos.
ST. GERMAIN
This neighborhood was formerly a haven for artists and writers, but now has become more upscale – some would say it's overrun with tourists. Still, due to the number of art galleries, street markets, bookstores, and other unique shops, it's worth checking out the culture of this neighborhood.
You can spend the afternoon exploring here or people-watching at a cafe. We stopped at Les Deux Margot, which is famous for its past patrons like Ernest Hemingway. It can be a bit touristy, but the food was very good and worth a stop. There are plenty of other street cafes and patisseries to explore here if you want to avoid crowded tourist joints.
FREE EXPLORE THE CITY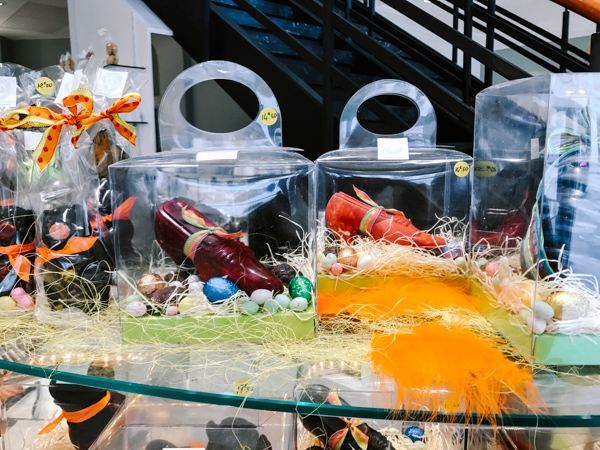 Paris is a city of the senses – one of the best things you can do here is walk around and see what calls to you. Give yourself some time to wander the city block by block, and take in all the sights, smells, and sounds. There are lots of cute independent chocolate shops and patisseries, you never know what you'll discover. I loved walking the streets, looking at the intricate window displays, and sampling lots of chocolate.
RESERVE A NICE DINNER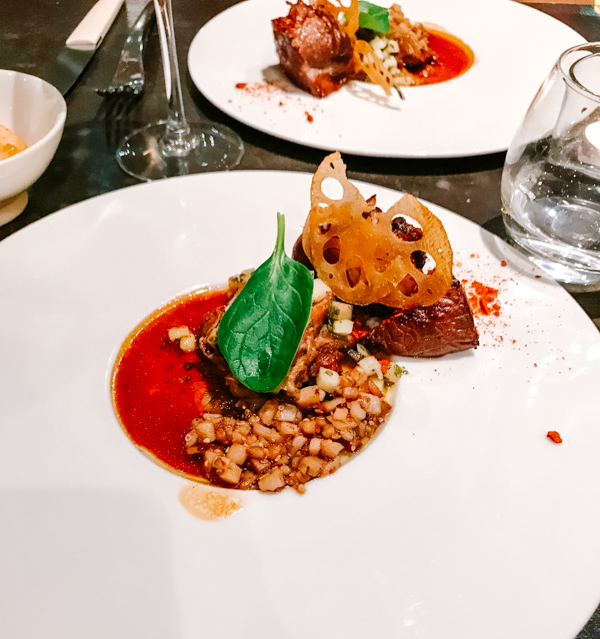 Before you leave, you should have at least one authentic French meal. Culturally, the French take mealtimes seriously and you'll notice this if you go anywhere for dinner. There is much pride taken in preparing food, slowing down, and enjoying life – it's a way of life you can only experience in France.
Book a 3-course dinner at a restaurant, and take your time to slow down and enjoy it – you won't regret it. There are lots of GREAT restaurants in Paris, but part of the fun of the city is randomly stumbling upon something you just LOVE.
So I'd recommend just walking around and see what calls to you. You may need a reservation, so if you see something you like make sure you book it for a later time.
NOTES
Weather: dress in layers – it can get cold and windy, and it's expensive to buy hats, gloves, and scarves near tourist spots.
Transportation: the best ways to get around are on foot, using the metro card included in the Paris Pass, or Uber if you are in a rush. You can also use the Big Bus to get around the same day you redeem your tour
Accommodation: Paris can be pricey, especially the hotels. Since I was with a group, we booked an Airbnb in the Japanese section of the first arrondissement near Palais Royale. This location was easy for us to walk around and get to metro stations.
Thanks so much for checking out my guide to a weekend in Paris! I hope this helps you. If you want to see my guides for other cities, check out my travel page, and check out my shop to see art inspired by my travels.
Here is a short list of links I mentioned above:
LINKS
LANDMARKS + TOURS
FOOD
Map