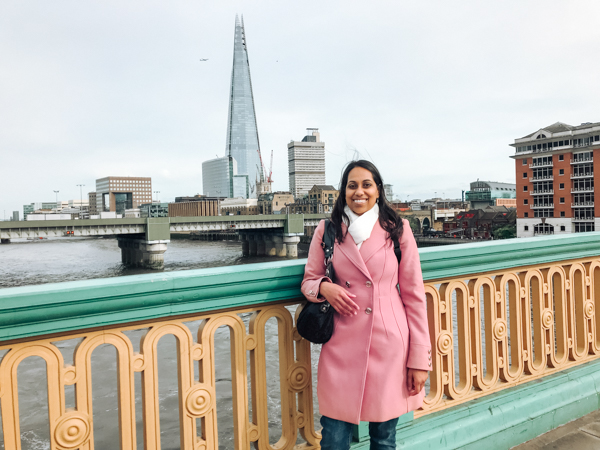 I love London! This city has a lot to offer in terms of culture, food, nightlife, shopping and more. It's also a great home base for doing day trips to parts of the English countryside if your travel schedule allows. You'd really need multiple trips here to see and do all London has to offer, but below you'll find my list of favorite things I've found so far. I'll be adding much more to this Girl's Guide to London as I visit again.
I've also found Candace Abroad to be a great resource, as she's an expat living in London, and she mentions a lot of wonderful hidden city gems in her blog.
The Girl's Guide to London
ACTIVITIES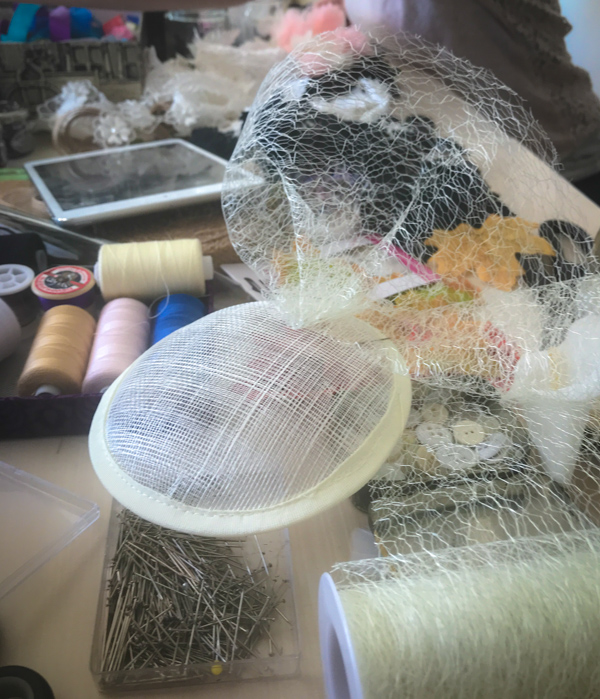 Before heading to London, I researched on Airbnb to see if there were any unique experiences I could find. This one caught my eye – it's called Create a Custom Fascinator Hat over High Tea.
Like the name says, it's a fun activity where you can create a fancy fascinator hat while sipping some delish tea and snacks.
Note: You should know how to sew before booking this experience as you'll be sewing all items onto your hat. I loved this experience, it was well worth the investment and I love my fascinator!
London Street Art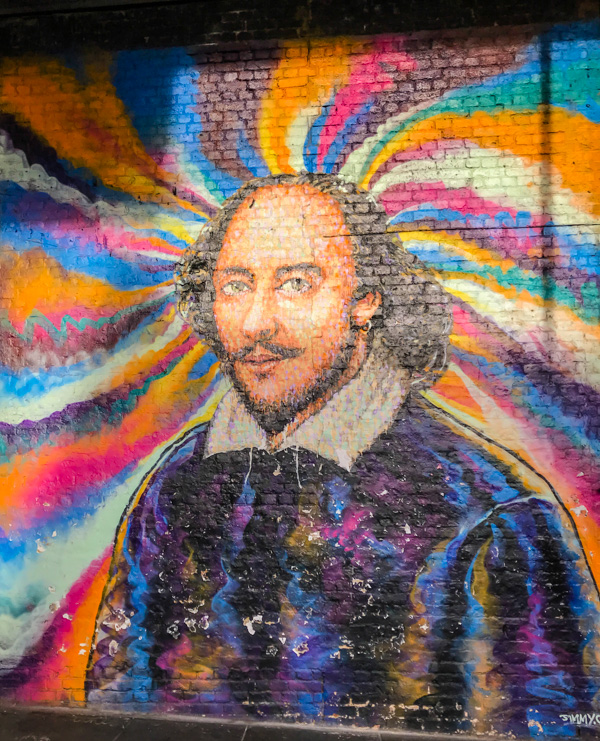 I loved walking the different neighborhoods in the city and taking in the beautiful murals and street art. If you venture out to East London you can find some in Shoreditch and Hackney, as well as scattered throughout the city. If this is your thing, I found this blog to be a good resource.
One of my favorites was the Shakespeare mural located near 227 Clink Street near Borough Market.
I also stumbled upon this really neat musical sidewalk light installation in front of Mug House in the Montague Close tunnel (linkedin in Map below – you can see them on Google Street View). There are a bunch of blinking lights that synchronize to the tune of "London Bridge is Falling Down" that play as you walk by.
I couldn't find any blogs or places online that mention it, so this is a little gem discovered by me. Check out the video above to see them.
Night Photography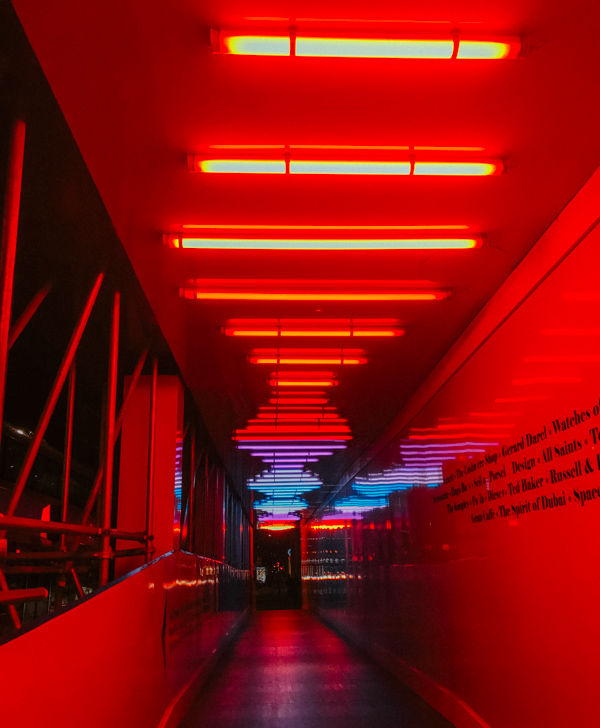 London is absolutely beautiful at night! If you get a chance, walk around the city and take in the different lights installations.
Some of my favorite night spots are Carnaby Street (near the sign), Piccadilly Circus, and the areas near the Knightsbridge metro station.
TOURIST LANDMARKS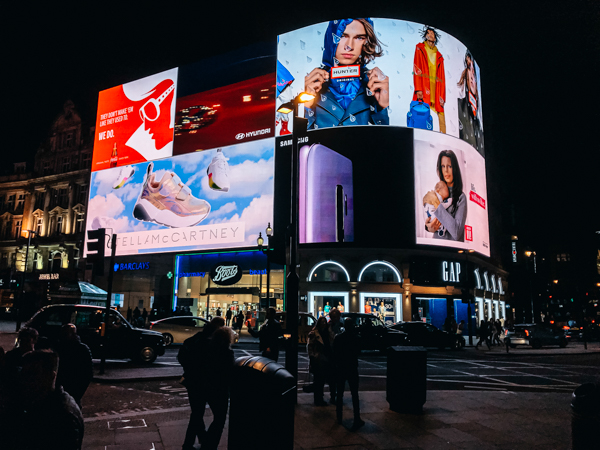 As I mentioned above, Piccadilly Circus is a great spot to photograph at night. It's also like the Times Square of London, with lots of street performers, entertainment, and theaters nearby.
It's also a stone's throw from a nearby Whole Foods, so if you're traveling with food allergies like me, you'll likely be able to find better options for meals and snacks. Most of the brands here are UK brands, but I was able to find the substitutes for things I needed (almond milk, etc.)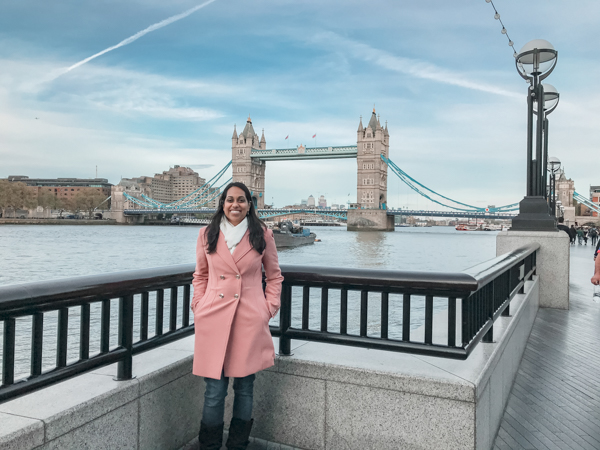 This iconic landmark on the Thames river is worth a stop on your trip, and it's fairly close to other tourist attractions like the Tate Modern museum and the Tower of London.
The closer you get to the bridge the harder it is to get all of it in your photo – so I'd recommend starting from further back near London Bridge and working your way towards Tower Bridge.
There is a beautiful walkway alongside the Thames River, and it's nice to just walk along and enjoy this part of the city. The shot above was taken on the south bank near the HMS Belfast.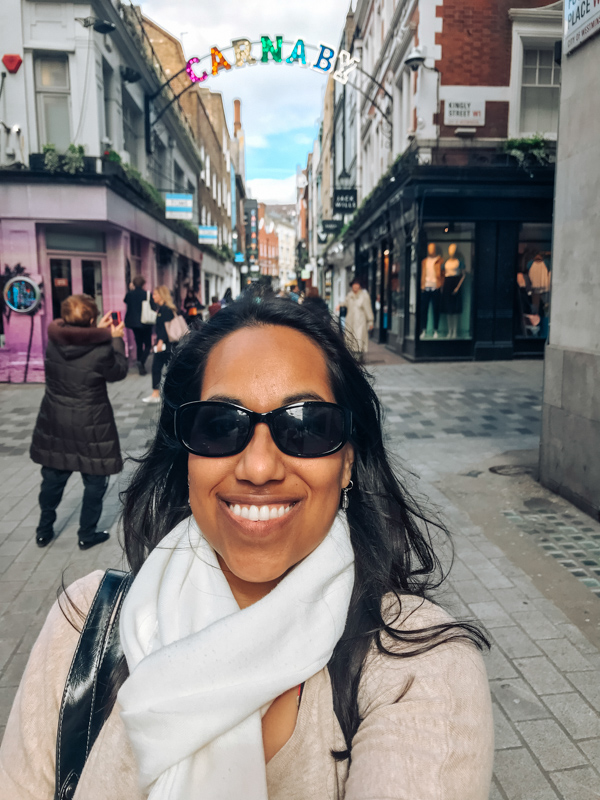 This vibrant, pedestrian-only shopping area in the Soho section of London is just a 5-minute walk from Oxford Circus and the Piccadilly Circus Tube stations. It's great to experience it at night and in the daytime.
The 14 streets of Carnaby Street host everything from signature British brands, boutiques, and global chain stores, to over 60 independent cafes, restaurants and pubs with cuisine from all over the world.
There are also lots of artists and street performers here bringing a playful vibe to the area.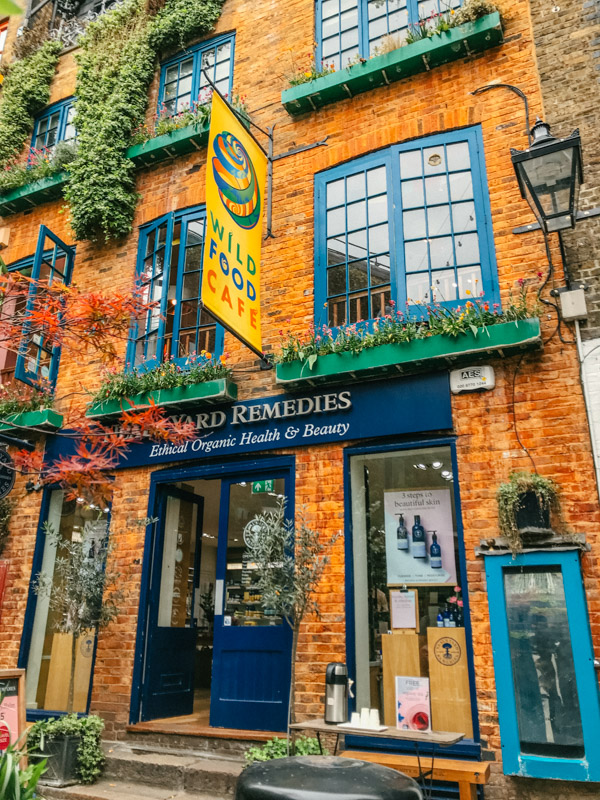 This colorful corner of London is a haven for organic and sustainable shops in a hidden corner of Covent Garden.
Hues of Delahaye has a great write-up on the history of the area and how it was transformed into a holistic village community.
Stop by Neal's Yard Remedies for natural skincare, try the cheese at Neal's Yard Dairy, or grab a bite from one of the clean food restaurants in the courtyard like 26 Grains.
Red Phone Booths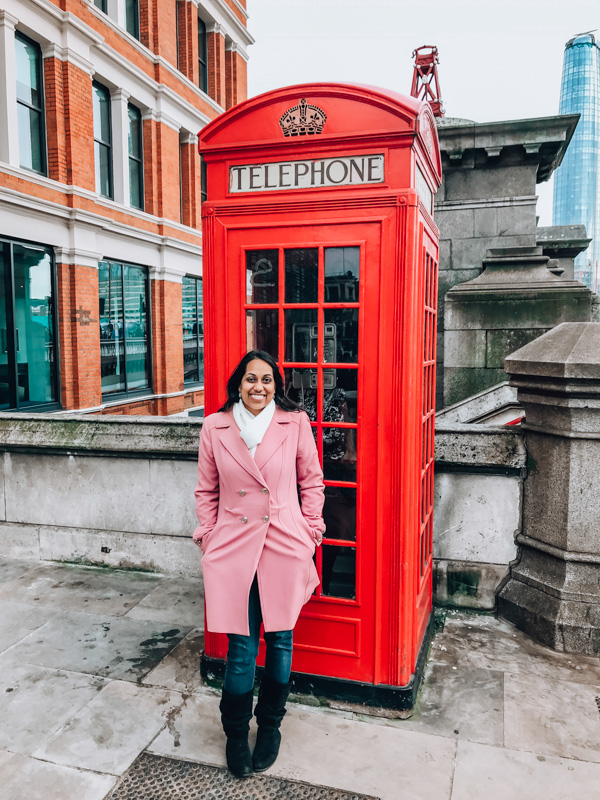 London is known for its signature red phone booths, but since everyone uses cell phones now they don't get much use.
We were actually warned by locals not to go in the phone booths, because people pee in them, and they smell strongly of pee. (I'm looking out for you in this girl's guide to London, kay?!)
If you want to take photos, it's better to stand in front of them, and not go inside.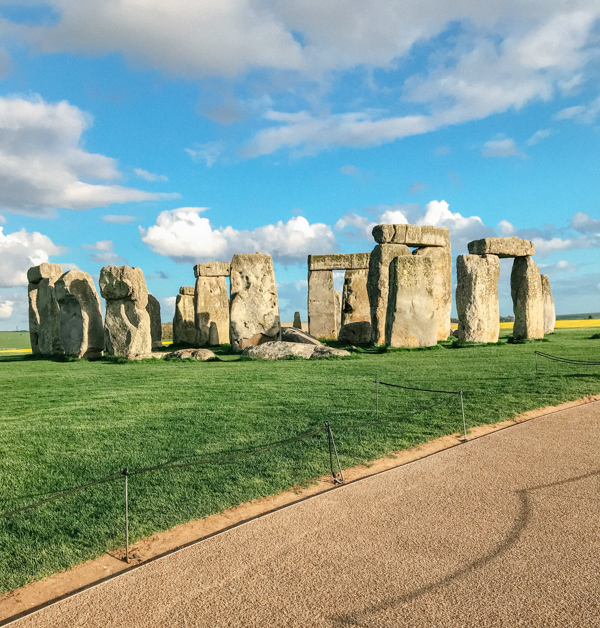 I did a lot of research, and this tour was the best for seeing Stonehenge because it offers a private inner circle tour of Stonehenge after it closes to the general public (meaning you get to hop the rails and walk amongst the stones).
You can choose a sunset or sunrise tour (I opted for sunset), which is prime golden hour for taking photos.
This tour also includes stops in the English village of Lacock, and the town of Bath with a tour of the Romans Baths there.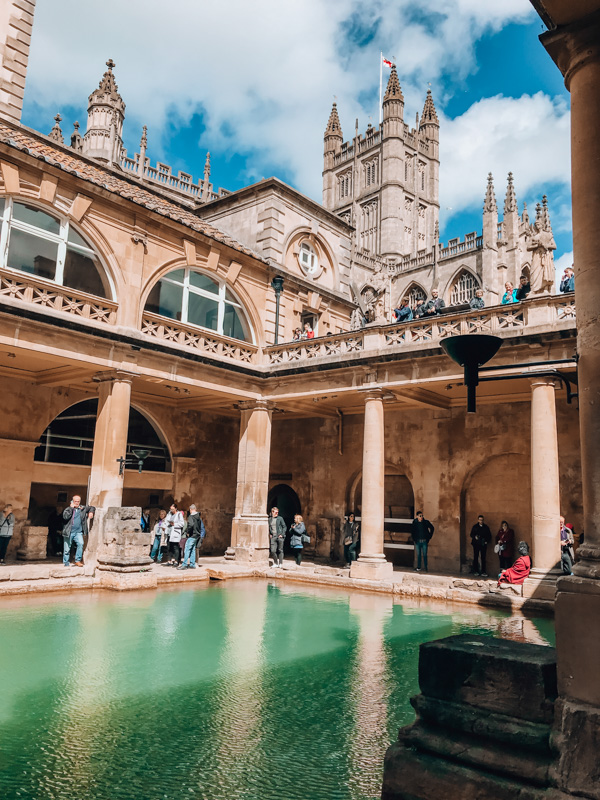 The pickup point in London is usually a central location (mine was at the Gloucester Hotel in Kensington), and you'll be on an air-conditioned bus all day.
Plan to devote your entire day to the tour, as the pickup is early and you'll need to conserve your energy for all the activities. Remember to bring cash for gratuities to the tour guide, and money to purchase your meals.
I got some amazing shots on my camera, and it was such a beautiful experience to walk amongst the stones. I even saw a rainbow on the ride there! Check it out in the video above.
FOOD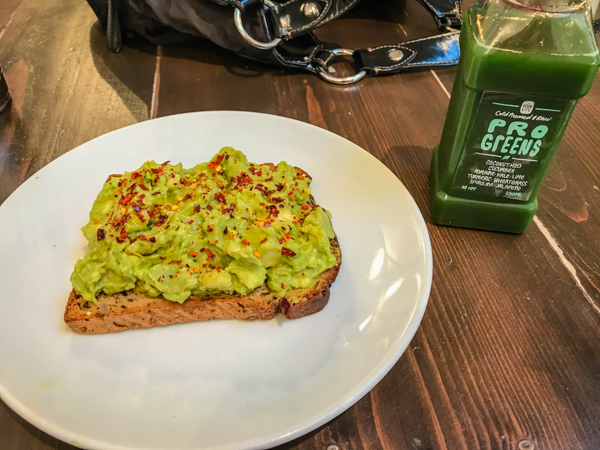 Traveling with food allergies makes it very difficult to find places that have food options I can consume, and most hotel menus have little if anything I can eat on there which makes travel stressful for me.
I was lucky to find this cafe chain, Good Life Eatery, which has 4 locations in London, and has a healthy, sustainable menu that gluten, dairy-free, and vegan folks can enjoy.
They have a line of cold-pressed juices, smoothies, bowls, salads, and snacks to cater to healthy eaters. I'm partial to their gluten-free avocado toast.
With locations in Notting Hill, St. John's Wood, Chelsea & Marylebone, it was an easy walk to one of them when I was staying in Knightsbridge.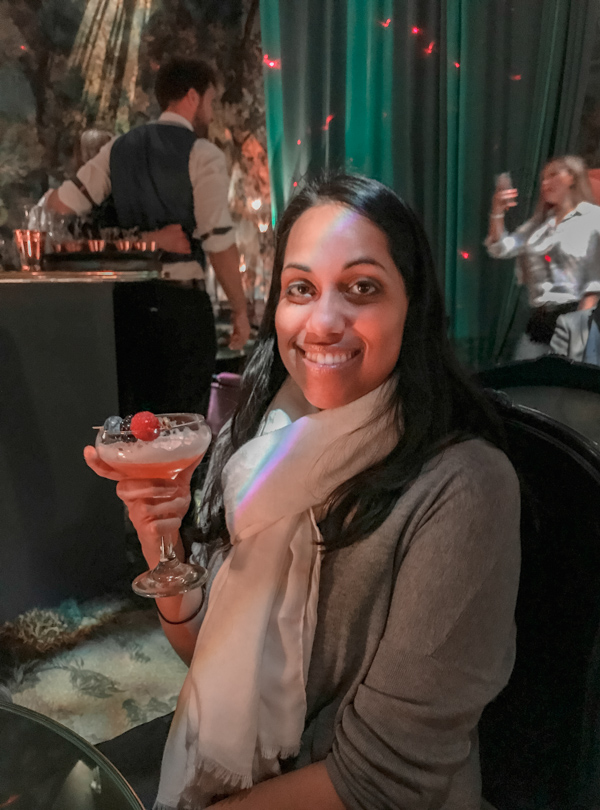 The trendy spot is actually four separate restaurants in one, each with its own design and ambiance. It's a favorite on my guide to London!
There is a tea room called The Gallery where you can reserve high tea from 11:30 – 4:30 PM, The Lecture Room & Library where you can have a Michelin Star meal, The Parlour which is a patisserie by day and a bar by night, and The Glade which is more like a cocktail and appetizer lounge in the evening. If you are just looking for a cocktail, they also have the East Bar to service you.
It's best to book in advance as the reservations fill up fast. When we came the Gallery was full, but they were able to seat us as walk-ins in The Glade and we enjoyed some drinks & appetizers there. It's decorated like an enchanted forest, and I enjoyed the ambiance and food.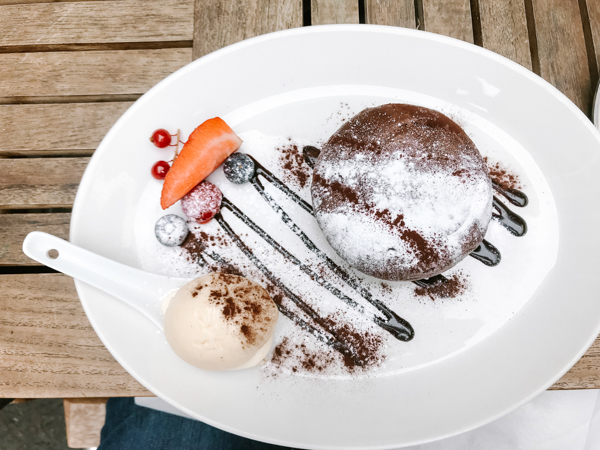 Borough Market is London's oldest food market (since 1276!) with many options to satisfy your food cravings.
London has a great international food scene, and you can sample dishes from all over the world from the food stalls at Borough Market – from chorizo rolls, cheese toasties, moong daal dosas (India!), to Ethiopian beef stew and more.
LINKS:
I hope you've enjoyed this Girl's Guide to London! Here are all the links for what I've mentioned above and a map to help you navigate your travels.
If you want to see some art inspired by my travels, check out my shop here.
Activities:
Stonehenge Tour:
Landmarks:
Food:
Resources:
MAP