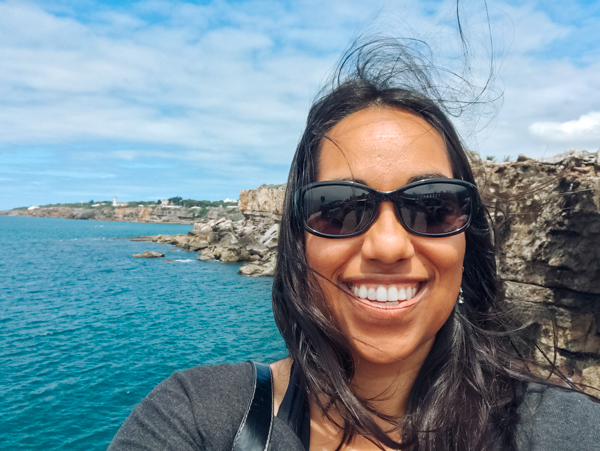 Portugal is a beautiful country, full of sand, surf, friendly locals, and delicious seafood. As an artist, I LOVE the colors and patterns of Portugal. The entire country is full of design eye candy from the architecture, to the warm color schemes of Pena Palace and historic buildings. It even inspired some of my own designs like my Hearts of the Sea pattern and Polka Dot Sea collections. Here is my girl's guide to Lisbon featuring my favorite landmarks, beaches, and restaurants.
It's relatively affordable to visit compared to other parts of Europe, so I found my money stretched a little further here. You can check out the video to see the live shots of these places. I shall add more to the list as I revisit this beautiful country!
THE GIRL'S GUIDE TO LISBON
LISBON
For the majority of the trip, I stayed in Lisbon, with day trips to other regions. We used rideshare apps as our primary mode of transport, and a lot of the rideshare drivers double as tour guides. So we were able to book a day tour with them and took us all over Lisbon, Cascais, and Sintra to see all the sites.
Here are my favorite spots:
BEACHES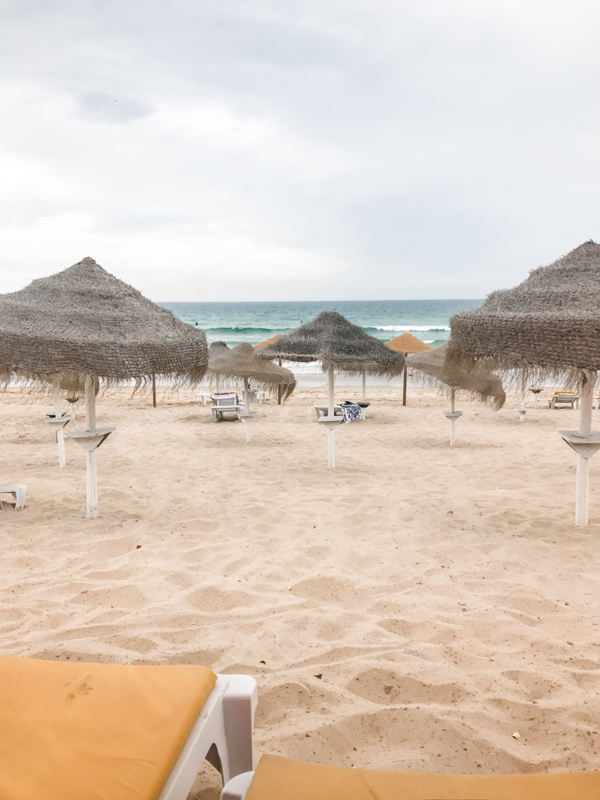 This part of the Libon area has 26 kilometers of beautiful beaches, lined with a boardwalk of cute eateries and beach clubs.
We visited the Praia Nova section of the coastline, and spent a luxurious, relaxing day at one of the beach clubs.
I loved walking the shoreline and observing all the different kinds of sea life native to Portugal.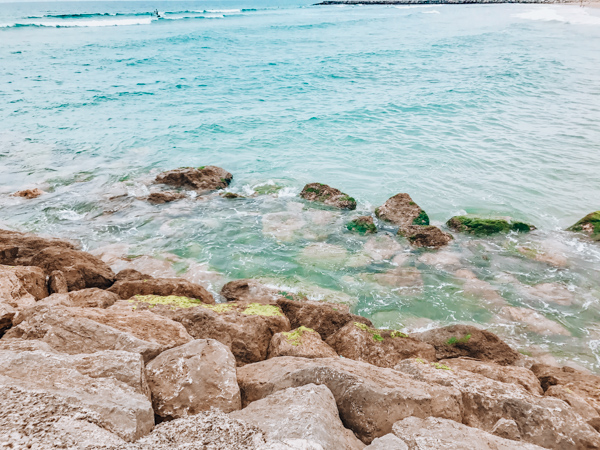 This fun beachside bar is where we spent the majority of our day at Praia Nova, as it's located right along the promenade. This is one of my favorite spots on my guide to Lisbon.
Espaço 20 also has a wide array of cabanas and beach chairs right on the sand, and you can order your food and drinks directly there. It's nice to be able to lounge on a beach chair and sip a cold drink while you bask in the sun.
At one point in the day, it started to drizzle, and the hosts were kind enough to escort us under a covered cabana.
They don't have a website, only a facebook page, but you can head to their Instagram page if you want to see photos of their menu options.
LANDMARKS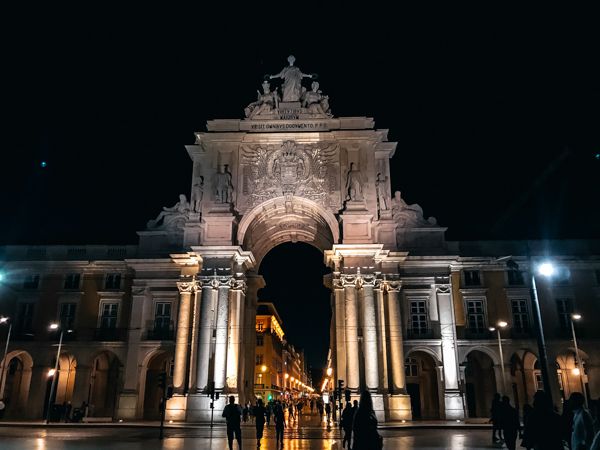 This monumental arch was built after this part of the city was decimated in an earthquake, fire, and tsunami in 1755.
It's located on the northern end of the Praça do Comércio, which is a beautiful square and located right on the banks of the Tagus River.
Climb to the top via a spiral staircase to see amazing panoramic views over the river and Praça do Comércio.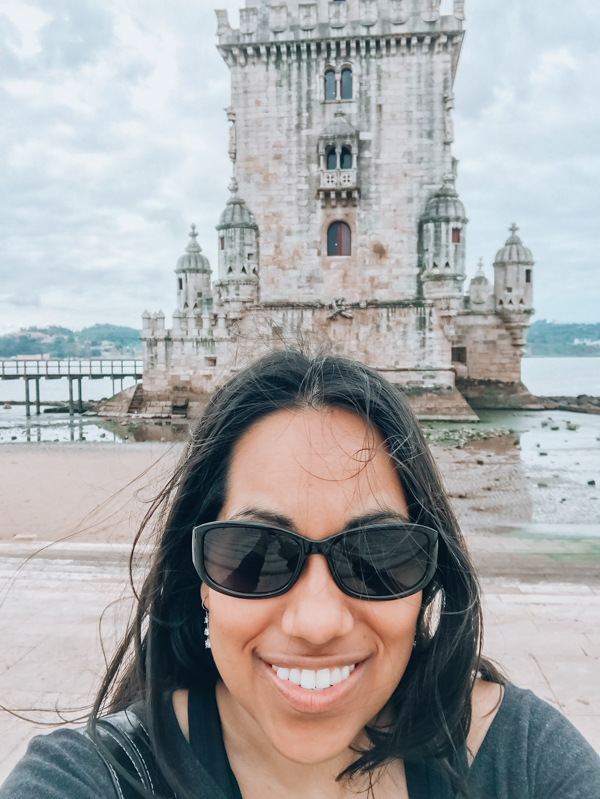 If you're into architecture, be sure to add a stop at Belém tower on your tour of Portugal. This 16th century limestone fort is considered the gateway to Lisbon, and is a UNESCO World Heritage Site.
It was originally built to defend the city and later transformed into a lighthouse. Look for the rhinoceros gargoyle on the Western face of the tower.
Also take time to explore the plaza near Belém Tower, as it has some beautiful map carvings and monuments like the Monument to the Discoveries.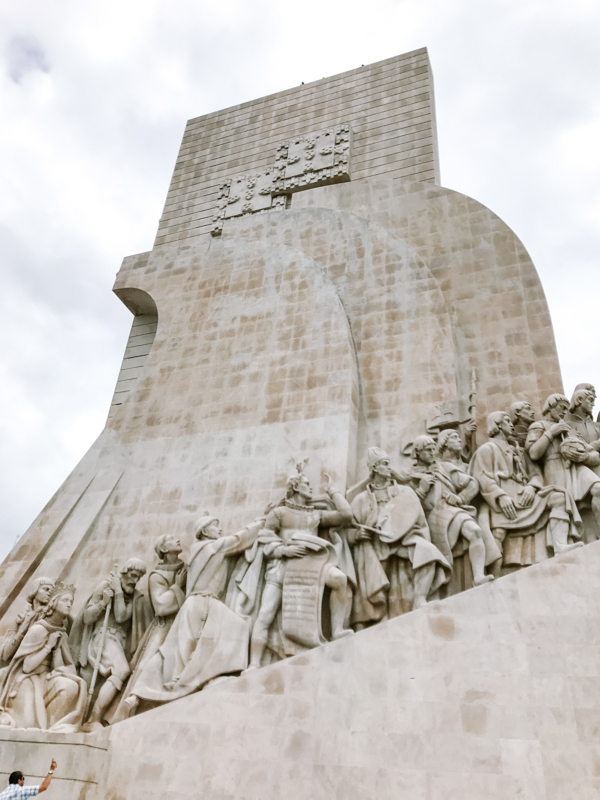 DAY TRIPS + ATTRACTIONS
As I mentioned above, we hired a tour guide for the day to take us around the Lisbon landmarks, and showed us several sites like Cascais and Boca de Inferno on the way up the mountain to Sintra.
I'd recommend doing the same if you want to venture outside of the city, it's well worth it as Portugal is beautiful!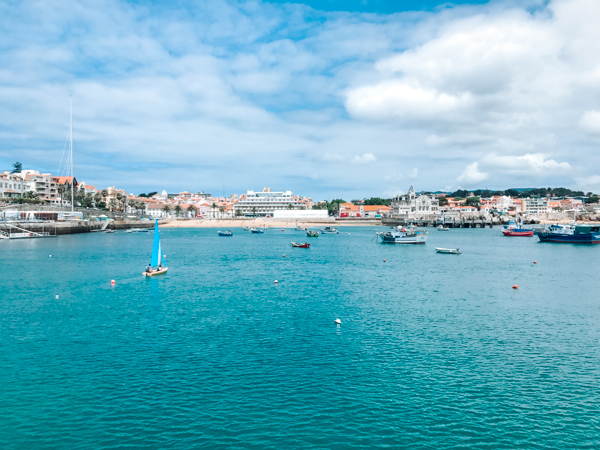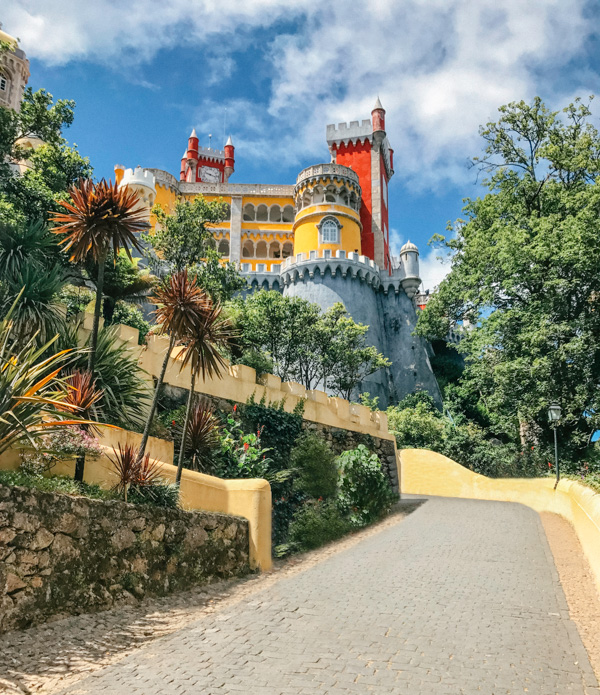 This beautiful palace and UNESCO World Heritage Site is a must-see on your itinerary. Design aficionados like me will appreciate the beautiful use of color and patterns in this castle. The warm yellow hues all around Pena Palace are perfect for taking pictures.
I loved walking around and looking at all the intricate design details as captured in my photos.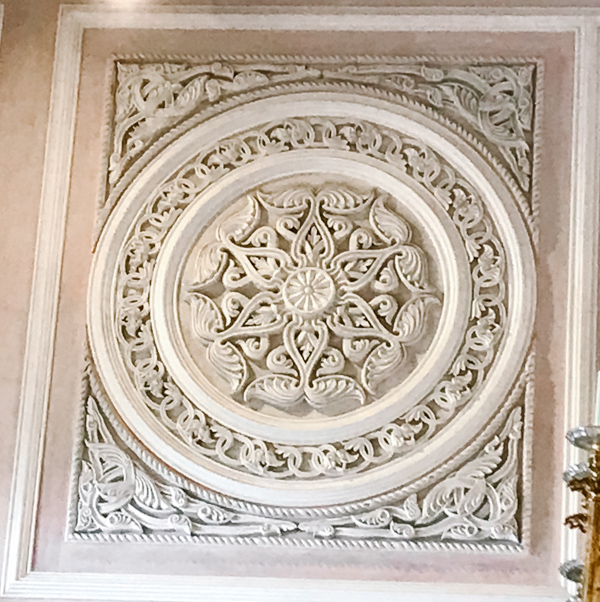 King Ferdinand II commissioned this castle in the 1800s, and its unique architecture has European and Islamic influences. If you have extra time, stroll through the beautiful gardens which contain over 2000 species of plants.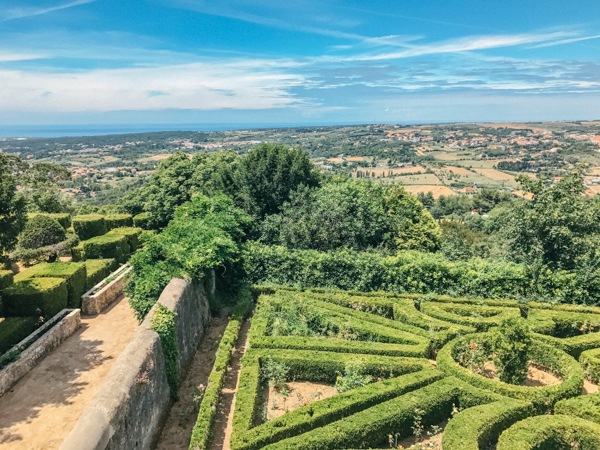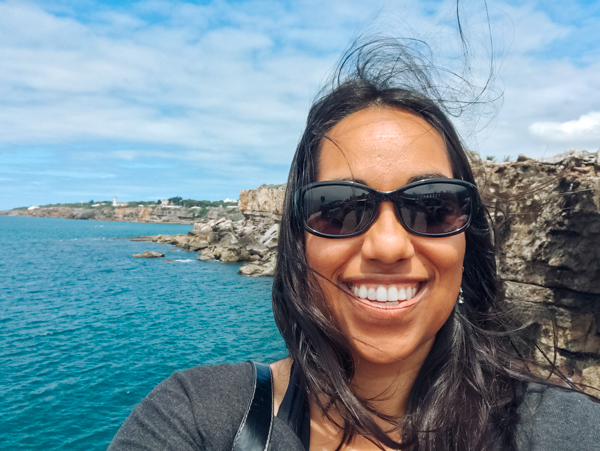 On the way up to Sintra, our driver stopped in the town of Cascais, which has a beautiful town square with cute shops and restaurants.
Boca do Inferno, which translates to "Hell's Mouth," is located just outside Cascais. The ocean here has carved out some arches and caves into the rocky seaside cliffs, with monstrous waves that crash through like an erupting volcano — hence how the formation got its name.
There is a small restaurant here, tourist stalls, and a viewing platform. It's worth the short stop on the way to Sintra, the views from this lookout point are beautiful.
FOOD
SINTRA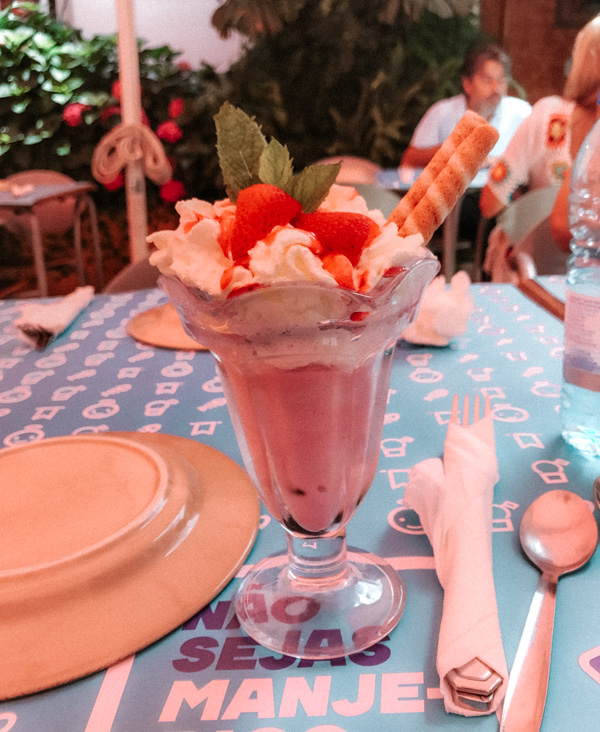 Our tour guide took us to this small family-owned restaurant in Sintra on the way to Pena Palace that was delicious.
Porto Dos Sentidos serves traditional Portuguese dishes, I tried the traditional codfish dish called Bacalhau à Minhota. They also had an amazing strawberry ice cream sundae to top it off!
LISBON
This restaurant was recommended to us by our local friends. We knew it was popular because the first night we tried to go, the line was around the block and the wait was hours long!
We did manage to get a table on our second night after waiting in line for an hour, but it was worth the wait!
Cervejaria Ramiro has some of the freshest seafood in town. The food is literally in water tanks around the restaurant and they cook it fresh. Be sure to plan accordingly if you're going to visit, as it's very popular. I had the tiger prawns and they were delicious!
If you can't get into the restaurant, the 1908 Lison hotel across the street also has a great restaurant.
This former palace-turned restaurant makes for a unique experience – there are seven different eateries where you can sample everything from Portuguese tapas to a nice minty Mojito (I had one, it was great!).
Palacio Chiado occupies the 18th Quintela Palace and was renovated to include a series of casual to fancy restaurants and bars across its two floors. Each area is completely unique from the tasting menu to the decor.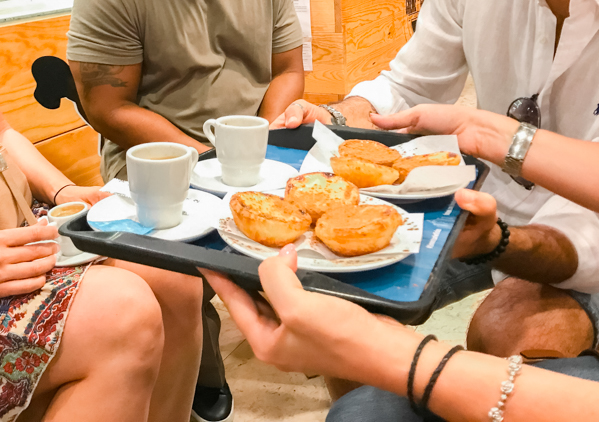 This foodie haven contains over 50 different food stalls. You can sample food and drinks from Portugal's most famous chefs.
Be sure to sample Portugal's most famous pastry, Pastéis de Nata, which are Portuguese egg custard tarts. Our local friends told us that Time Out Market Lisbon is the best place to sample them.
Check out the video to see a snapshot of our travels.
LINKS
BEACHES
LANDMARKS
FOOD
SINTRA
LISBON
MAP