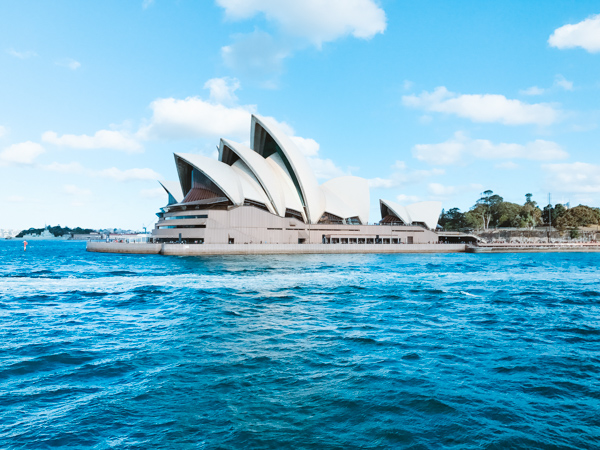 Sydney is one of the most beautiful places to visit in all of Australia! I created this girl's guide to Sydney because when I do travel searches, it's hard to find activities specifically geared towards women. I get a lot of cheesy tourist results in Google, and nothing really geared towards the girly activities I'd like to do: visit spas, parks, farmers markets, beaches, etc. That's why I decided to make this girl's guide to Sydney with the best places I discovered on my travels. I do tons of research before a trip to get the most out of my travels and have unique and meaningful experiences. If that's you too, then read on and learn some of the coolest spots I discovered in this amazing Australian city.
TABLE OF CONTENTS
The Girl'S Guide to Sydney: BEACHES
1. Bondi Beach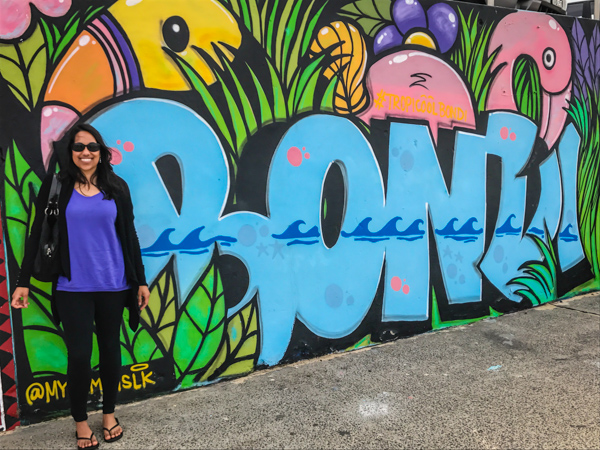 This popular beach and tourist destination is worth a visit! There is a colorful mural with the words "Bondi" to take photos at, and the beach area is quite expansive with plenty of space to lay around. You can also pay admission to the famous pool and sauna if you'd like to visit.
There are several swim and clothing boutiques across the street from Bondi Beach that carry cute beach and casual wear.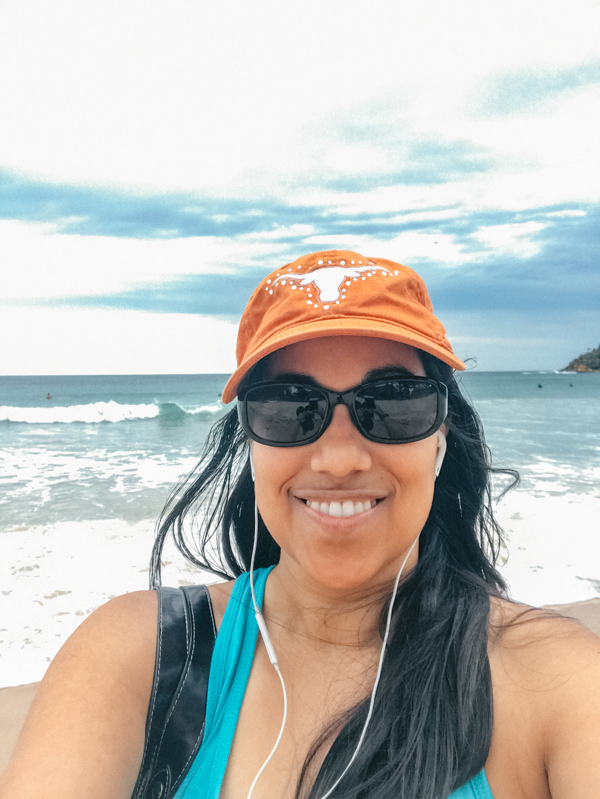 I stayed in this area, and if you're visiting I would recommend it because it's beautiful, and it's easy to get to other parts of town via the Manly Ferry. Manly is one of Sydney's Northern beaches, and has a lively town square area with shops and restaurants called Manly Marketplace. It's fun to walk through and explore the shops, as well as relax on the sand or catch the sunrise on the shore.
There are lovely walking paths if you want to take a stroll along the shoreline with a route leads to a smaller beach called Shelly Beach. Wild turkeys run around this beach amongst the swimmers! (See photos of the one I saw above).
I loved eating at Blue Water Café and Whitewater Café across the street from Manly Beach. They offer gorgeous ocean views while you dine.
ACTIVITIES AND SHOPPING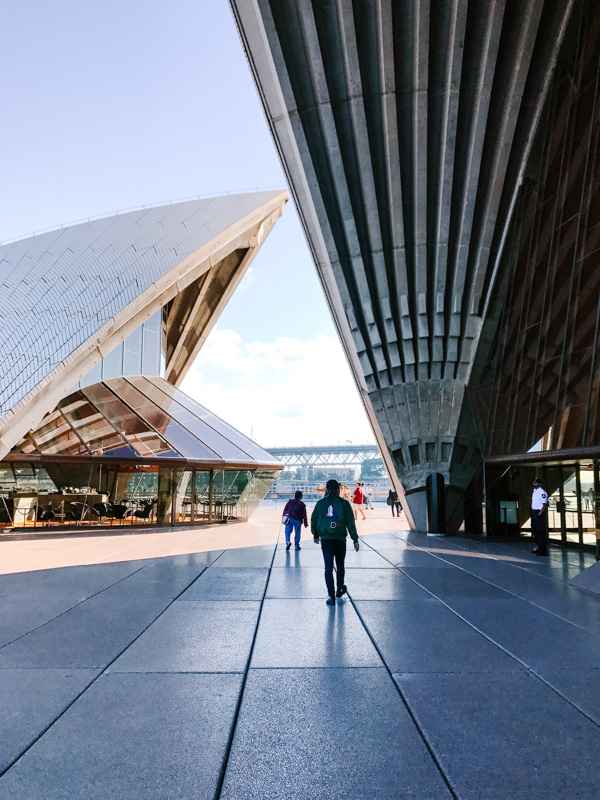 This iconic building is definitely worth a stop on your itinerary. It's in an area known as Circular Quay – it's easily accessible by ferry and is walking distance to other parts of the city I'll mention below.
I scored an awesome deal on UGGs at the Opera Quays UGG store across from the Opera House. They were having a sale, and with the AUD to U.S. Dollar conversion on top of that, I got a nice pair for about $111 USD.
There are some great places to eat in this area as well. I had lunch at the Cruise Bar patio, with great views of the Opera House.
Girl's Guide to Sydney Tip: You can snap some great photos of the Opera House and Sydney Harbour Bridge on a ferry ride into the Harbour, as I did on my ride from the Manly Beach ferry into Circular Quay. Another great place to take photos is across the inlet on the sidewalk along Campbells Cove Lookout. You can take great shots of the Harbour Bridge and the Opera House from here.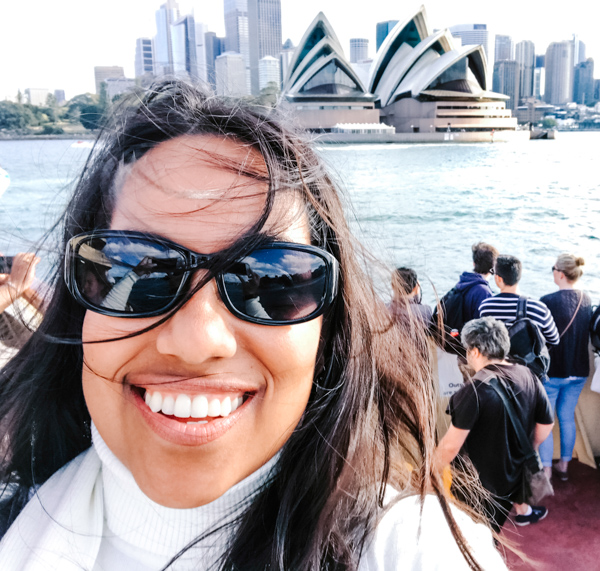 The area near the Opera House is called The Rocks, and if you continue up along George Street & Harrington Street they have some great dining and high end shops with unique offerings. I got some good chocolate bark at one of the specialty chocolate shops.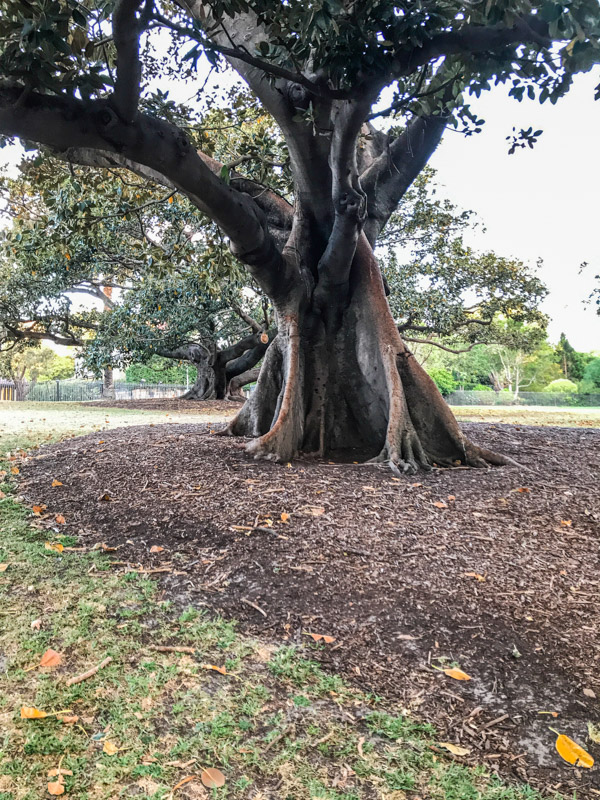 The Royal Botanic Garden is located right next to the Sydney Opera House, and has walking paths that lead to amazing views of the harbor and Sydney Opera House. There are ancient trees in the park that offer nice shade from the sun on a hot day. I saw a lot of families and kids playing here, so it's a great place to relax with a lunch picnic or cozy up with a good book for the afternoon.
The wildlife in Australia is so interesting and different from the U.S. I got a ton of inspiration for my designs from the different kangaroos, wallabies and colorful birds I saw here. You can check out some of the finished designs inspired by this trip in this post.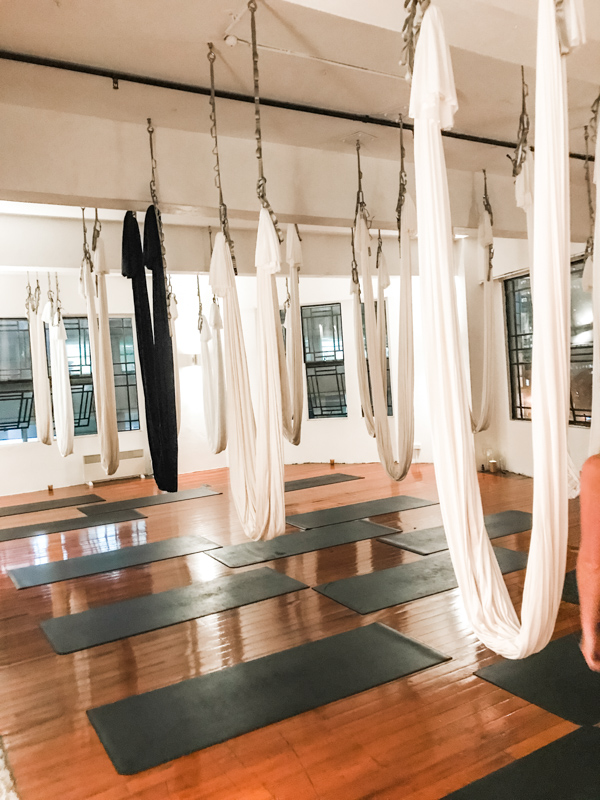 This place is one of my favorite discoveries for the Girl's Guide to Sydney! I took my first yoga class in 2006, and became a regular practitioner in 2015. I knew I had to drop in for an Aerial Yoga Stretch class once I found this place. I've only dabbled in aerial yoga on the silks at festivals in San Diego, so I was excited to try it again on the other side of the world.
The studio is located in an artsy part of town called Surry Hill, with a lot of cool cafes you can grab a bite at after class.
Even though I practice vinyasa yoga regularly, hanging on silks challenged me and made me stretch in different ways. This acitivity is one of my favorites in the girl's guide to Sydney, and reasonably priced at about $30 USD.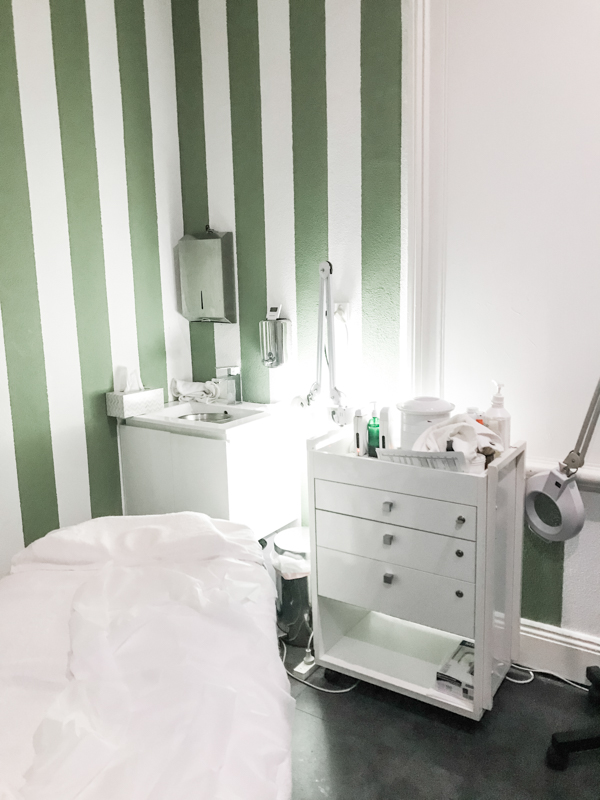 Since I was on vacation, I knew I wanted to relax. I was staying in the Manly area for part of this trip, and after doing research I decided to book the Pure Bliss Package at The Garden Spa.
It was heaven! The package includes a full body massage with a facial and scalp massage. The cost of the package was about $140 USD, which is cheaper than what I could book those services for in the U.S. due to the Australian Dollar to U.S. Dollar Conversion. So if you are spending USD and want to pamper yourself, it's definitely worth the splurge in Australia.
Girl's Guide to Sydney Cultural Note: My esthetician told me that it is not customary to leave a tip for spa services in Australia the same way we do in the U.S. She said that they are paid well and their salaries are regulated by their government, so it's not obligatory to leave them one, but you can leave one at your discretion.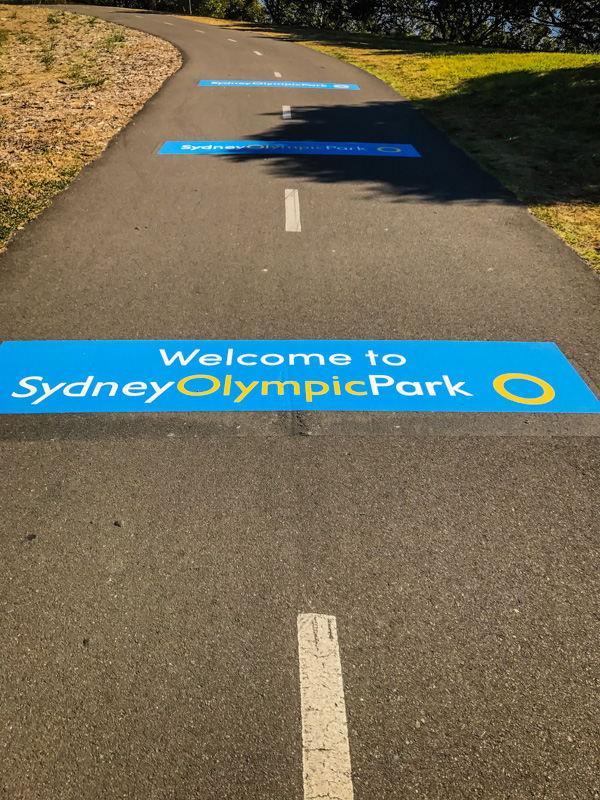 Location: Homebush
If you have the time to explore, head to Sydney Olympic Park and walk around. There are some great walking trails that line that water if you want to take a stroll or a run.
There are also some cute cafes within the village itself. I loved the Abbatoir Blues Café. It's a family-run boutique diner hidden away in a 1900's abbatoir (former slaughterhouse). Inside it's very cozy, and the owners were friendly and welcoming every day I had breakfast there.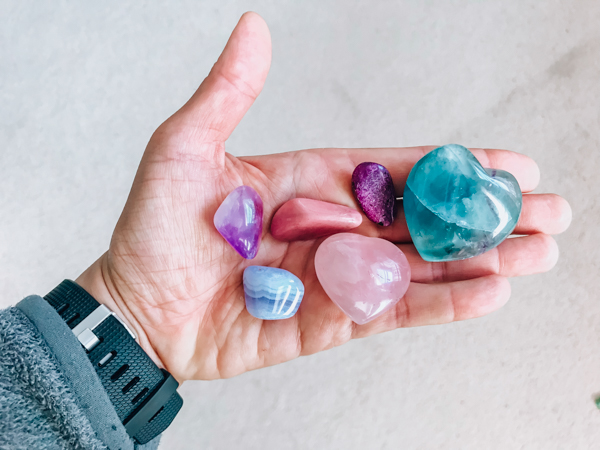 One of my favorite things to do when I travel is check out the metaphysical stores in the cities I'm visiting. I researched and visited a few different crystal stores in the Sydney area, and this one was one of my favorites.
They had a great selection to choose from. I ended up going home with a heart-shaped rainbow fluorite, and now every time I see it, I remember this crystal I got in Sydney and my special trip down under.


10. Malls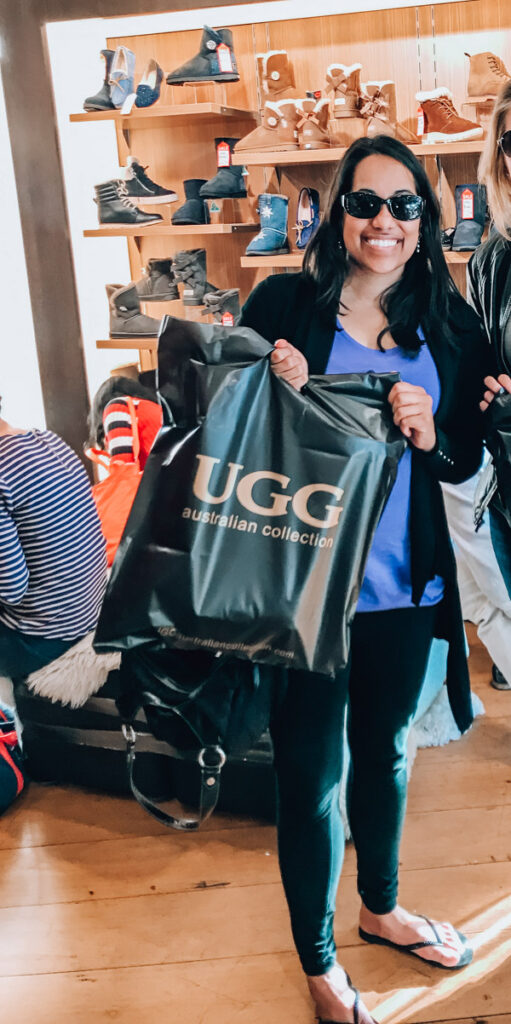 I loved walking around the shopping malls in Australia! Most of the stores are ones you wouldn't find in America, so it's really interesting to browse through them.
Westfield Sydney Shopping Centre is walking distance to the Sydney Opera House. It's a 10-minute walk from there and located near the Sydney Tower Eye.
Since I was there in their springtime (May) I scored some deals on clearance winter wear. I got a great pair of ankle boots from an Australian women's wear store called Witchery.
Even though its an American brand, I'd recommend visiting the Target stores when you are in Australia. Their Australian stores offer different things than you would find in the U.S. I got some winter boots on clearance for $19 USD so I bought them in brown and black. If the AUD to USD conversion is good, you can score some great deals!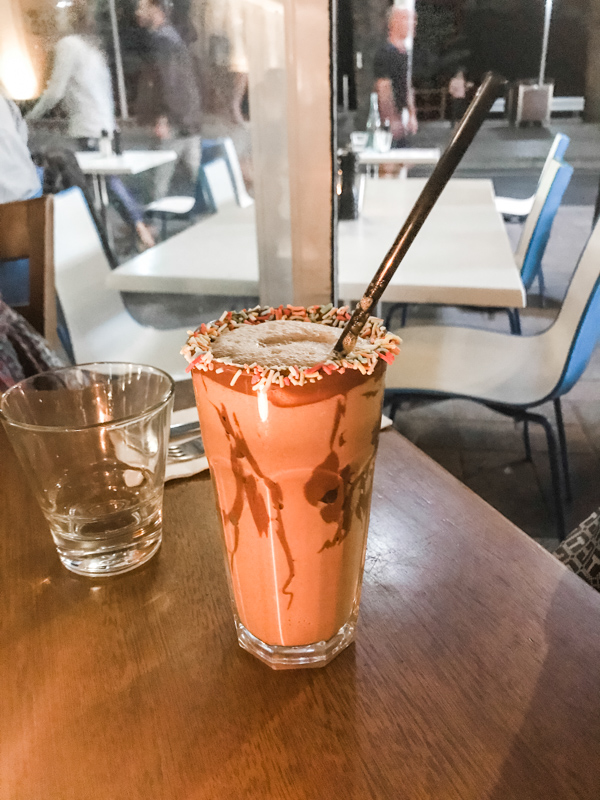 TRAVEL AND CULTURAL TIPS
Long Flight: From Los Angeles to Sydney, the flight time is about 15 hours. It was one of the longest flights I've ever taken, so be prepared to take a lot of stretch breaks and naps. Also, jet lag can be a real pain when traveling from U.S. to Australia – it took me about 3 days to fully adjust. If you can, try to relax on your first day in Australia to allow your body to acclimate.
Qantas Airlines: They actually served hot food on my short 2-hour plane ride from Melbourne to Brisbane. Unlike short-haul flights in the U.S. where we get crackers or peanuts, Qantas actually fed us something substantial! I was so elated when I saw they were giving us hot food, it felt like a treat compared to how we are treated on interstate flights in the U.S. Keep this in mind if you want to be fed when you are booking your inter-Australia travels. They also serve popular Australian cookies called Tim Tams on long haul flights between Australia and the U.S.
Seasons: If you weren't aware, Australia's seasons are opposite of the U.S. since they are located in the Southern hemisphere. If you head there March-May that is autumn, and September-November is springtime, so be aware of this when making your travel plans.
Transportation & Walking: They walk and drive on the opposite side of the road than what we are used to in the U.S. This goes for sidewalks and beach walkways as well, so keep that in mind if you are renting a car or walking somewhere.
Vegemite: If you feel inclined to try it, this is a really popular snack in Australia. My mom actually asked me to buy some for her and bring it back to the U.S.
Food shopping tips: One of the main grocery store chains here is called Cole's. If you need to stock up on groceries, you can usually ask where the nearest one of these is.
SUMMARY
Shopping and Activities
Food
MAP