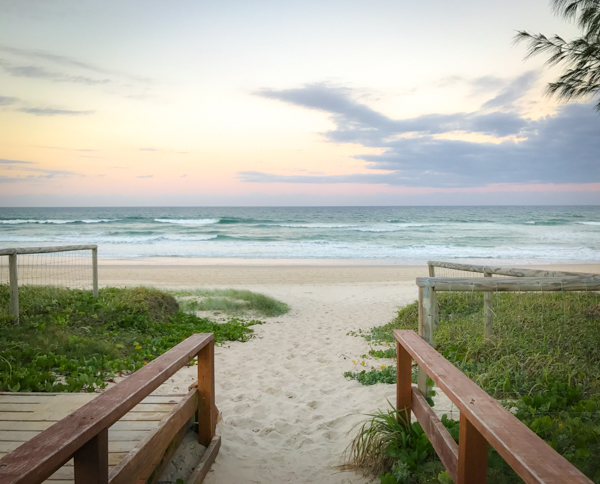 I love Australia! I can't wait to go back and visit again. It's an absolutely beautiful country and there is so much more left for me to explore. For now, I'll start with the top things to see in Australia's Gold Coast and Brisbane for the short day trip we took up there.
Often when I do research before a trip, it's hard for me to find results specifically tailored towards women. So I created these girl's guides to make it easy for people like me who love a good spa, farmer's market, and unique gems in a city instead of the gimmicky tourist traps. If that's you, feel free to read on for my best finds in these cities and drop me a comment below if you have any questions.
Things to see in Australia: Gold Coast Faves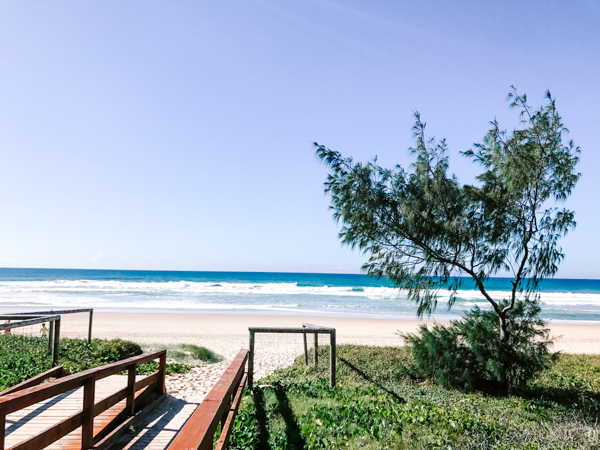 This gorgeous beach is one of my top spots to visit in the Gold Coast, not to mention it's super cool name! I have yet to spot a mermaid there, but I'll keep my eyes peeled next time as I plan to revisit in the future.
Mermaid Beach is the perfect spot to spend a relaxing day or having a beach picnic. The area is calm and laid back and there are several cafes and restaurants within walking distance.
Additionally, the best discovery I made was that we could order food and get it delivered to the beach! This was super convenient as we spent the day relaxing here, and walked up to the beach street entrance to grab our food from Uber Eats.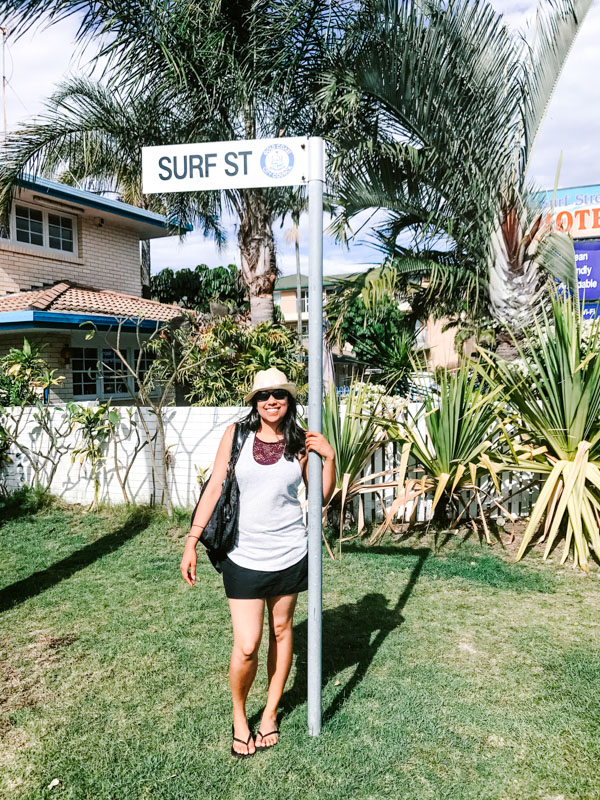 This is another cool section of town filled with cute eateries and small shops, and it's walking distance from Mermaid Beach.
We had delicious pizza from Gemellini on the main drag. There are a lot of independent shops like Nobby Beach Books.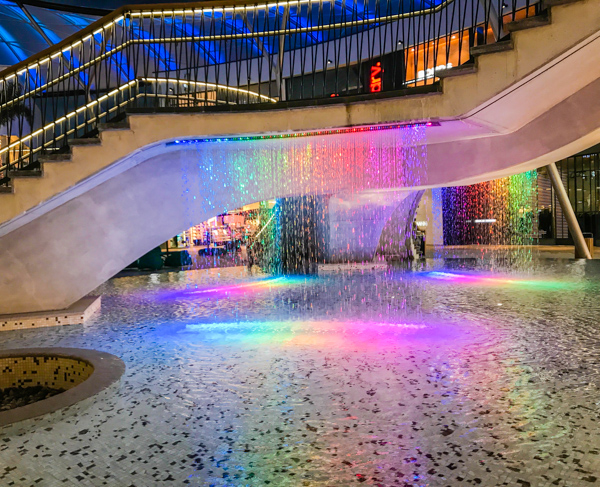 I love exploring the shopping malls in Australia because they have many interesting brands we can't find in the U.S. The Pacific Faire Shopping Centre in the Gold Coast is a great place to explore some of these. This beautiful indoor-outdoor property houses some great Australian brands and they have a gorgeous rainbow waterfall that I fell in love with.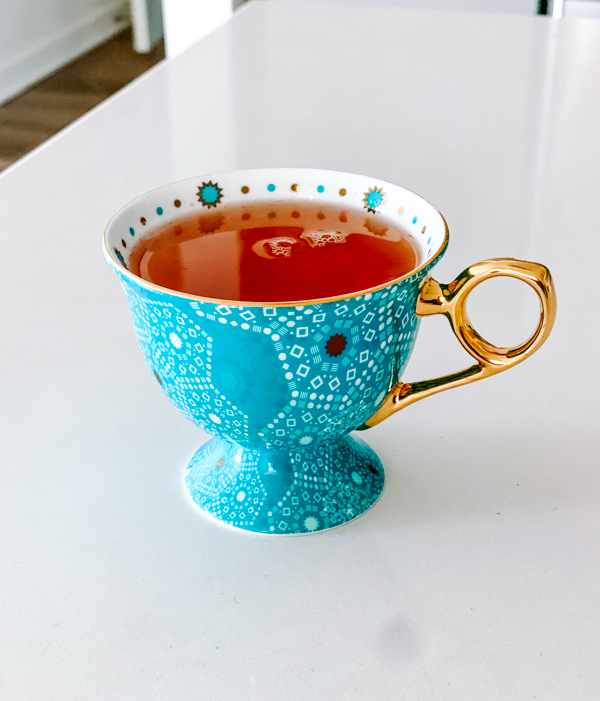 While there, I came across this brightly colored tea shop called T2 where I bought a beautiful ceramic tea kettle in their pattern Moroccan Tealeidoscope. (You know I love my teal things!) The brand has now expanded into the U.S., U.K. and Singapore, but I'd recommend stopping at their original shops in Australia if you get a chance. Fun fact: I love this tea set so much I actually bought all the pieces in their Aqua Moroccan Tealeidoscope pattern by shopping their stores around the world on my other travels.
Seafolly is another great Australian brand to check out here – I love their swimwear.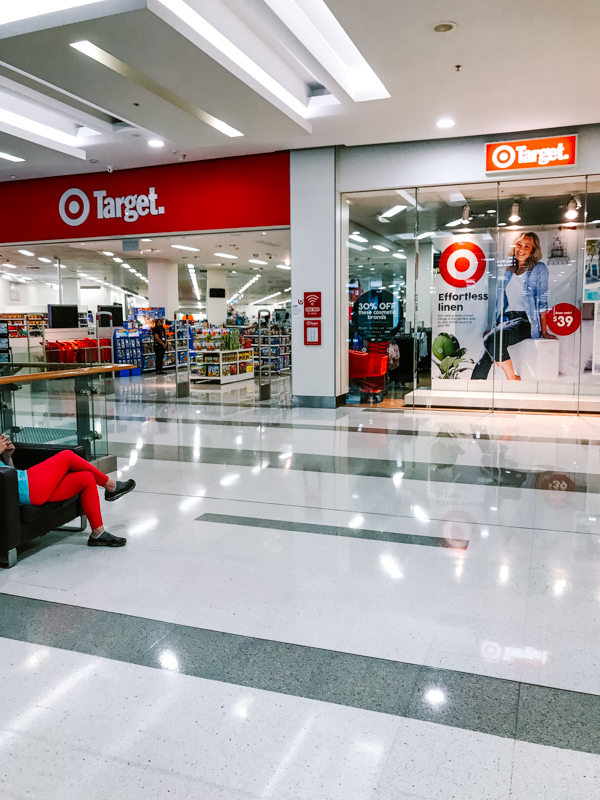 Target Australia is also worth exploring. The Australian Target stores are different than what we find in the U.S, they offer different goods and in my opinion, they are a little more high-end. Since their seasons are opposite ours you can score some great deals on end of season stuff. I got some great fall boots on clearance here.
I stayed in this resort for part of my trip to the Gold Coast and it was amazing. The staff were friendly, the property is huge, and they have an amazing hotel gym and pool. I am always mesmerized by the wildlife in Australia, and to my delight, I saw lots of bright tropical birds flying around the property.
Their rooftop restaurant Videre serves delicious meals and has a panoramic view of the resort. They also serve high tea that I didn't get to experience when I was there, so will have to try it on the next visit.
Additionally, the Royal Pines Spa is divine! I had the Unwind Package, which includes a scalp therapy, body wrap, massage, water therapy (I chose a Vichy shower), refreshments, and relaxation time on their spa patio overlooking the grounds. It was one of the best spa treatments I've ever had, so if you're up for indulging in some self-care, I'd recommend this place. I loved sitting on the spa patio and looking out at the grounds. This is why this resort is one of my absolute favorite things to see in Australia's Gold Coast.
Brisbane Faves
If you want to see koalas and kangaroos and your schedule allows, I'd recommend doing a day trip to Brisbane. It takes roughly an hour to get there from the Gold Coast.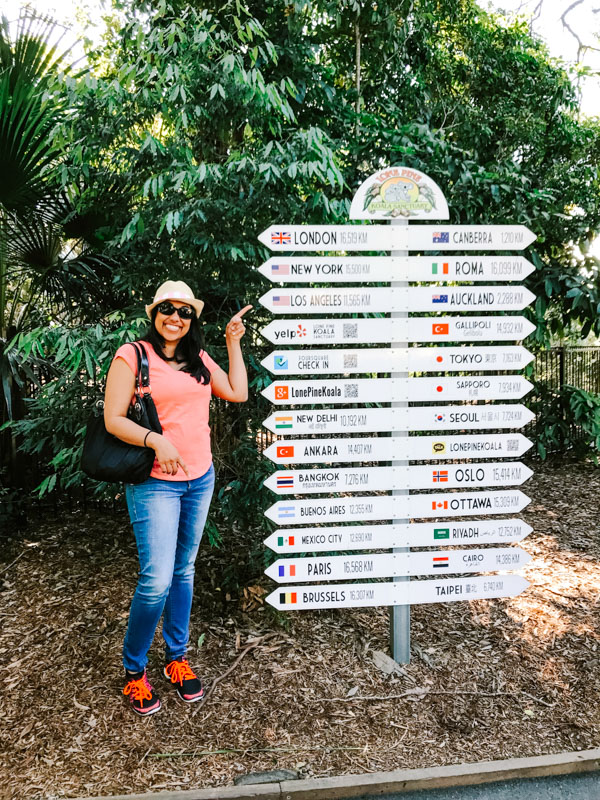 We really wanted to see some kangaroos and koalas on the trip, so we did some research and found this Koala sanctuary in Brisbane. It's the largest Koala sanctuary in the world with 130 koalas and over 70 other species that are native to Australia.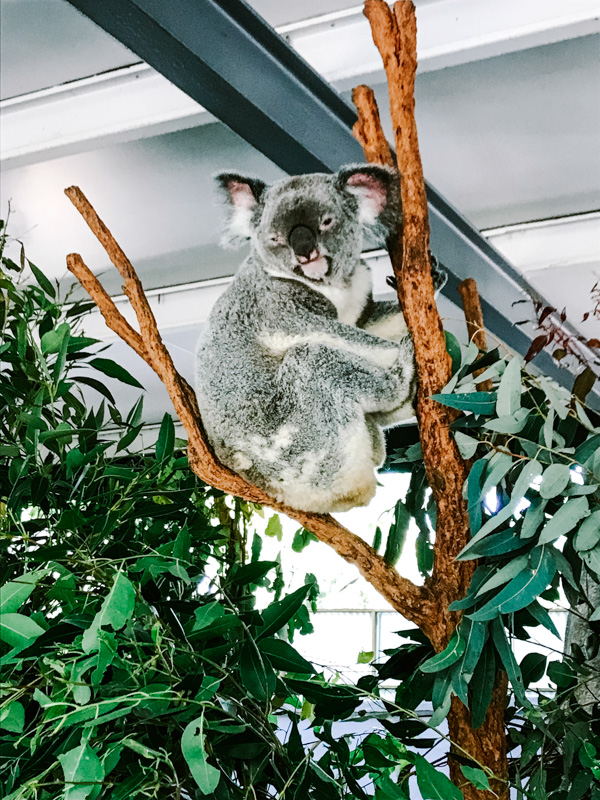 It was a real treat to experience this place because we don't have any of these animals in America. There are even certain times of day they will let you hold a koala and take your photo.
Obviously, be a respectful tourist here and don't do anything to endanger the animals. This is a sanctuary after all, so many of the koalas here suffered injuries in the wild or another circumstance that forced them to live in captivity. There are strict regulations that don't allow the koalas to be held for more than 30 minutes a day.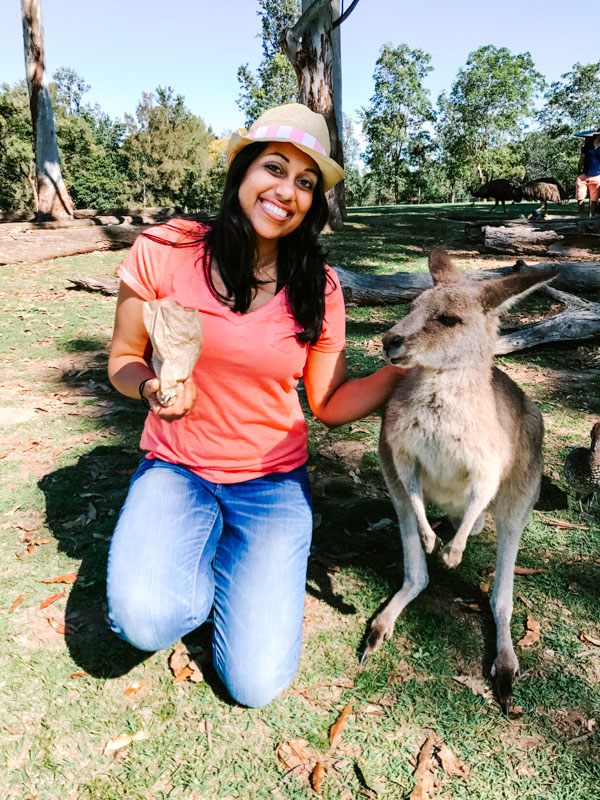 The sanctuary also has a free-range feeding area where you can feed kangaroos and wallabies, and a separate feeding area where you can feed lorikeets. Additionally, they have crocodiles, dingoes, Tasmanian devils and many more animals.
You could tour the entire kid-friendly facility in half a day, and use the other half of your day to explore more of Brisbane or have a nice meal somewhere.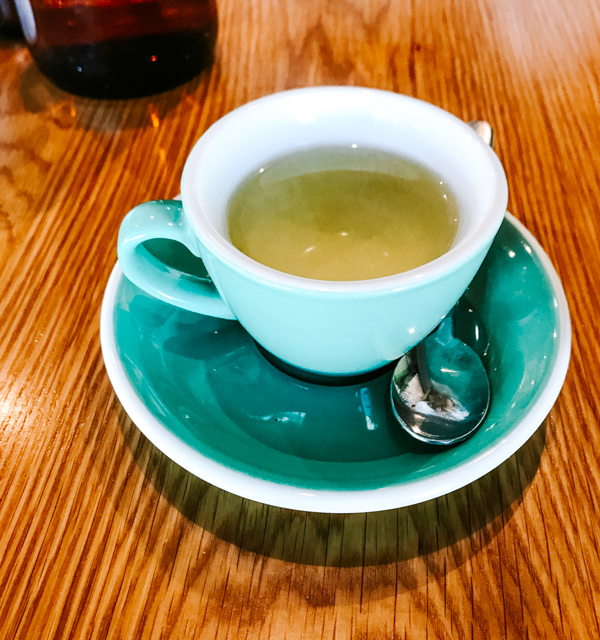 Our last stop in Brisbane was the Paw Paw Cafe. They have a wide array of healthy breakfast items and vegan options for Brunch..
Additionally, you can get any design you want printed on your coffee here via the Ripple app.
They have a fun, quirky octopus mural outside the building, which is great for an Instagram snap if you so desire.
Check out the links and map below for all the spots mentioned above. As I revisit, I will add more. Thank you for checking out my top things to see in Australia's Gold Coast and Brisbane.
If you'd like to see some of my artwork inspired by the birds I saw on this trip to Australia, check out this post!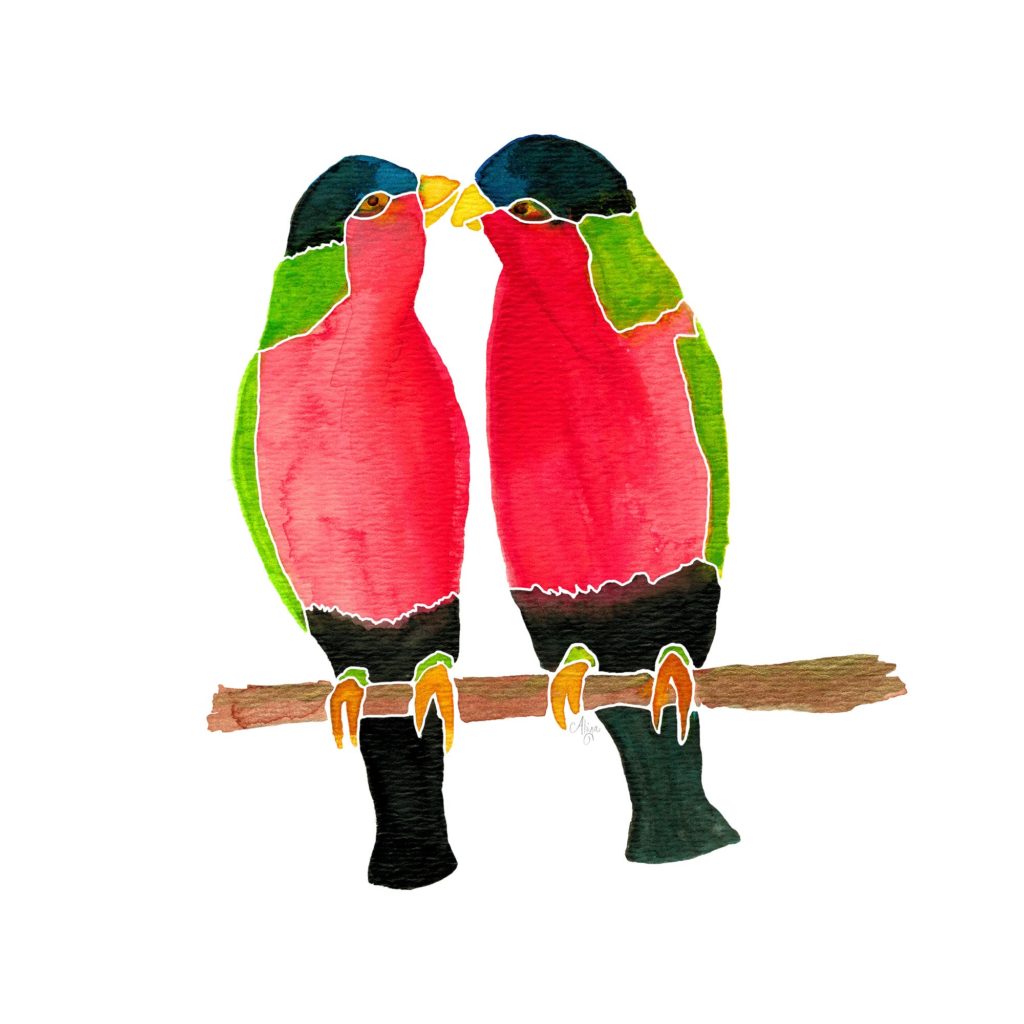 Gold Coast Links
Brisbane Links
MAP