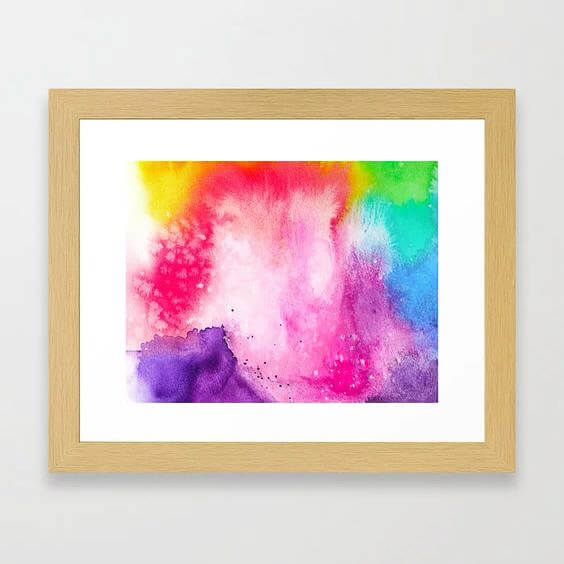 Usually I paint objects and figures in watercolor, but this time I decided to play around and make a watercolor wash. Do you remember the crayon box from kindergarten? I tried to pick a few colors to paint, but I really just like them all, so that's how this turned into a fun rainbow.
I had the same problem when I was little kid, I didn't want to pick just one color so I would pick them all. They just blend together so nicely!
I tried a few different techniques with this one, letting the paint dry and then tapping a brush with paint around for some interesting fleck of color and texture. Since this piece had so much paint, it's interesting that so of the colors took on a life of their own and traveled where they wanted to on the page.
I love the way this turned out, it's a fun design and works well on a lot of products like pillows, stationery, and wall prints.
It reminds me of the time I visited Tokyo, and went to Takeshita Street. There are so many fun colorful designs and shops, this print reminds me of a lot of those styles from Japan.
If you want to purchase this print feel free to check out the link to my shop. If you're a company interested in licensing this design, please reach out me on my contact page.
Medium: Watercolor Wash
Design: Rainbow Splash Watercolor
Color Palette: Bright Rainbow – Red, Orange, Yellow, Green, Blue, Indigo, Violet
Mood: Bright, Happy, Fun, Playful, Vivid, Festive
Inspiration: The Crayon Box
Shop Rainbow Splash Products